Questrom Staffing Plan: A Phased-Approach to Increasing On-Campus Staffing Capacity

A memo from Susan Fournier, Allen Questrom Professor & Dean
Dear Colleagues,
This letter lays out our plan to engage a phased approach to bring more staff back to on-campus work throughout the Spring 2021 semester and beyond. A return to on-campus work is vital as we look to reinvigorate and reunite our community. This need is especially salient as we approach the one-year mark since being forced to leave campus in March 2020. Our goal is to move beyond the transactional interactions that can dominate our Zoom-based worlds to reclaim the relational culture that binds and unites us. While staff-student interactions are of course at the heart of our mission, this is also about us, as a staff-to-staff and staff-to-faculty community. We remain committed to repopulating the campus thoughtfully, methodically, collaboratively, and in a manner that continuously and diligently adheres to all health and safety protocols.
While we will discuss details of the phased plan at the December 16 All-Staff Meeting, let me share a few principles. The phases are not sequential or linear. The phases also do not have pre-determined start and end times, or duration schedules. Rather, we will determine movement from one phase to the next phase, or even back to a previous phase, based on the positions of public health officials and BU leadership, and ongoing dialogue in the school. While retreats to a prior phase are typically executed quickly and made effective immediately, adequate notice will be given before the School advances to a subsequent phase.  
In our "COVID calendar," we have now seen two staffing phases and are gearing up for the third. March-August 2020 was Phase 1, where all of us save for some essential employees worked 100% remotely. Fall 2020 marked Phase 2, where we either worked in various rotations on campus or worked remotely depending on WARP (Workload Adjustment Request Process) status or assignments in non-student-facing functions. In Phase 3, we will bring back staff in all units, including those that are not student-facing. Also, in Phase 3, all those with HR-verified CDC factors via WARP are approved to work fully remotely for the duration of the phase. HR-verified individuals may also choose to opt-in to work on campus in some capacity during this phase.   
On a personal note, I share my own status as a CDC verified individual who opted for regular on-campus engagement in light of my Questrom leadership role. I can also share that the system put in place to manage the public health of our community, as well as the commitment of our on-campus colleagues to public safety protocols, was and remains pivotal in my decision. With no evidence of viral transmission in the classroom, and only a handful of instances across campus where BU believes that transmission occurred in the workplace due to close contact, I am honestly more comfortable in the Hariri building than I am in the grocery store.
I recognize that having agency over one's health situation is important and may give some of us pause in returning to on-campus work. I also recognize that these conversations may seem aggressive or even overly optimistic given current positivity rates and trends, and Governor Baker's recent roll-back of reopening guidelines in Massachusetts. This said, the time for a plan is now. We need a plan that offers us guidance to gradually repopulate our campus and re-build our residential institution and workplace.
I appreciate your patience as we make our way through the complexities of balancing a robust on-campus experience with the need to ensure the safety of our community. I encourage you to engage in the return-to-campus conversations that will take place in your unit. I look forward to discussing this plan with you at the All Staff Meeting December 16.
If you have lingering questions, please reach out to me.
I thank you—as always—for your on-going efforts to support our students, faculty, and each other during these uncertain and challenging times.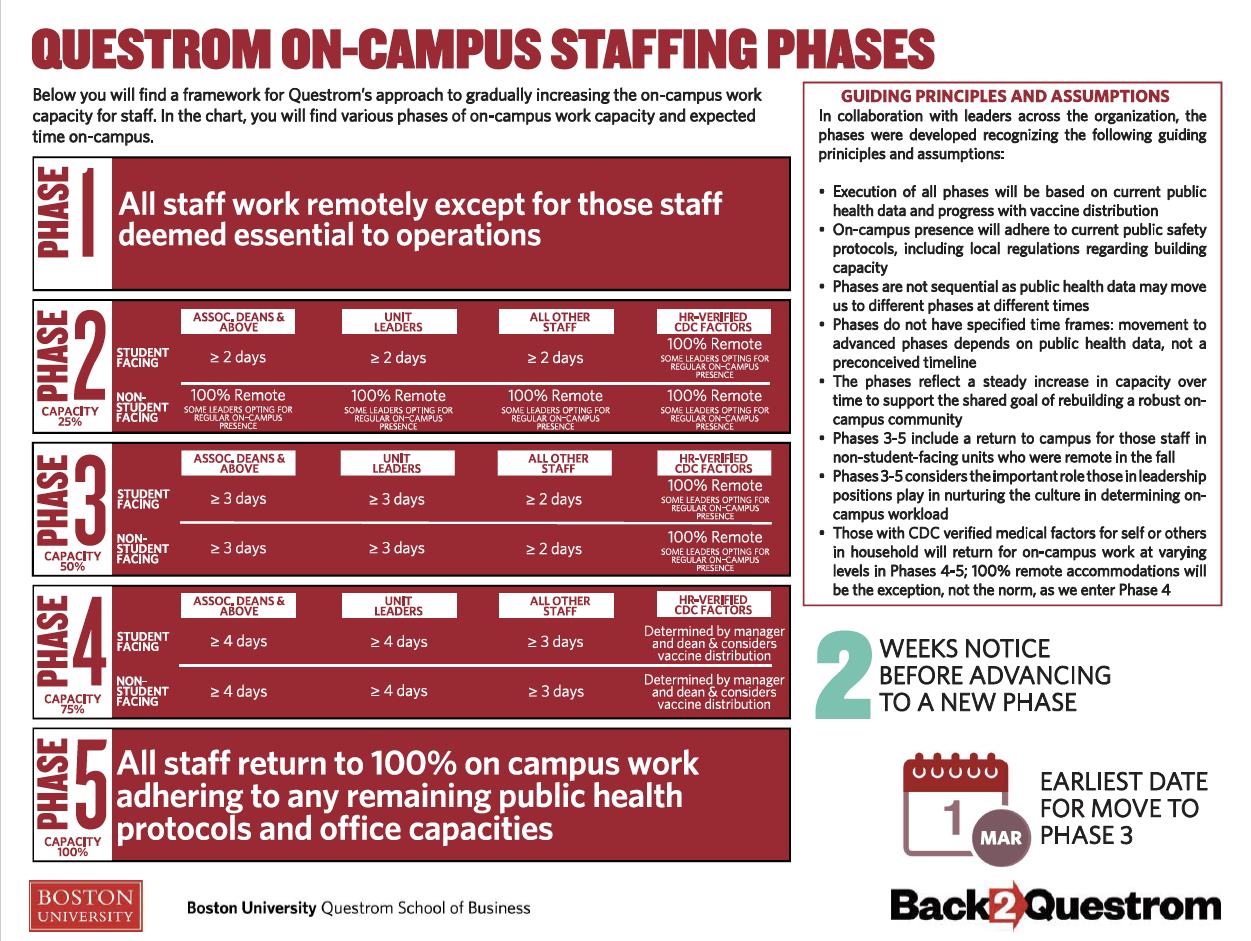 https://questromworld.bu.edu/back2questrom/wp-content/uploads/sites/36/2020/08/Back2Questrom_horiz_redarrow_out-site.png
62
400
admin
https://questromworld.bu.edu/back2questrom/wp-content/uploads/sites/36/2021/01/Back2Questrom_horiz_redarrow_out-site-smaller.png
admin
2020-12-15 13:16:48
2022-06-06 15:12:33
Questrom Staffing Plan: A Phased-Approach to Increasing On-Campus Staffing Capacity