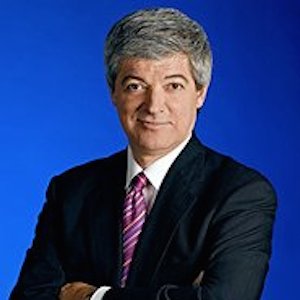 John A. Byrne, President, Editor in Chief, Poets & Quants
Thurs 10/2, 10am – 11am EST
Forum: Challenging the Business Model of Education

Thurs 10/2, 3pm – 4pm EST
Forum: Evaluating Policy & Rankings
John A. Byrne is chairman and editor-in-chief of C-Change Media Inc., a digital media startup that is launching a network of websites for the global business community. C-Change currently has two highly successful sites, Poets&Quants.com and Poets&QuantsforExecs.com. Little more than two years old, P&Q generates more than one million monthly page views and boasts a book imprint division which published its first title in 2012. Byrne is also the author of "World Changers: 25 Entrepreneurs Who Changed Business As We Knew It," his first book in ten years since the publication of his collaboration with General Electric Chairman Jack Welch. That book, "Straight from the Gut," was a New York Times bestseller for 26 consecutive weeks.
Byrne's collaboration with Mort Mandel, a self-made billionaire and highly successful entrepreneur in both the for-profit and non-profit worlds, will be published in December of 2012 by Jossey-Bass as part of its Warren Bennis leadership series. The book is entitled "It's All About Who You Hire, How They Lead…and Other Essential Advice from a Self-Made Leader."
Until Nov. of 2009, Byrne had been executive editor and editor-in-chief of BusinessWeek.com. He led BusinessWeek.com to record levels of reader engagement and traffic, oversaw the redesign of the site, and launched extensive new areas of coverage on management and lifestyle. Mr. Byrne initiated the site's twice-daily executive news summary, weekly interactive case studies, multi-media classroom videos, as well as new blogs and podcasts. He helped to develop and launch a major Web 2.0 initiative called the Business Exchange, an innovative product utilizing social media and news aggregation.
Under his leadership, BusinessWeek.com won two consecutive National Magazine Awards, the most prestigious recognition in magazine publishing, an EPpy for Best Business Website with over one million unique visitors (over The Wall Street Journal), and second place honors as the Best Website of the Year for news and business by the Magazine Publishers Association. In 2008 alone, BW.com captured an unprecedented 21 awards and nominations for journalism excellence. His weekly podcast on Business Week's cover story has been downloaded nearly 10 million times. Mr. Byrne's views on the future of journalism have made him a popular speaker and essayist. In the past two years, he has spoken at more than a dozen conferences, has been frequently interviewed about the new world of journalism, and has been published by Harvard University's Nieman Reports, The Christian Science Monitor, and MediaWeek magazine.
Prior to role at BusinessWeek.com, he was the executive editor for the print publication since 2005, during which he began three new annual franchises, including the highly successful Customer Service Champions and the Best Places to Launch a Career, and recruited to the magazine such popular weekly columnists as Jack and Suzy Welch, Maria Bartiromo, and renown wine critic Robert Parker.
Previously, Mr. Byrne was editor-in-chief of Fast Company magazine. He joined Fast Company in April 2003, succeeding founding editors Alan Webber and Bill Taylor, where he worked to reinvent the business magazine. Under his leadership, Fast Company won many coveted journalism awards, including its first Gerald Loeb award, the highest honor in business journalism. Mr. Byrne also made Fast Company the first business brand to launch an online blog and created, through a partnership with Monitor Group, an annual award competition for social entrepreneurs. More importantly, Mr. Byrne found and cultivated a buyer for the magazine, resulting in a $35 million purchase that saved the publication from an almost certain closure.
Before joining Fast Company, he worked for BusinessWeek for nearly 18 years, most recently holding the position of Senior Writer and authoring a record 57 cover stories for the magazine. His articles have explored the fairness of executive pay, the folly of management fads, and the governance of major corporations. Mr. Byrne's magazine writing has won numerous awards and has been republished in collections of the best writing on business. He was named a National Magazine Award finalist as well as a Gerald Loeb award finalist twice. Among his more widely recognized cover stories are "Philip Morris: Inside America's Most Reviled Company," a provocative exploration of the men who ran the largest tobacco corporation in the world, "The Fall of a Dot-Com," an investigative story on how big-name investors, blinded by Net fever, poured millions into a dot-com that fell into bankruptcy, "Joe Berardino's Fall from Grace," a narrative of how Arthur Andersen's CEO presided over the demise of his legendary firm, "The Man Who Invented Management," a reflective essay on why management guru Peter Drucker's ideas still matter, and "Are CEOs Paid Too Much?," an early examination (1992) of why executive compensation was out-of-control.
Mr. Byrne developed the idea of a monthly best-sellers list, launched the industry-leading business school rankings, established and managed the magazine's ranking of the best and worst corporate boards, and created its annual list of the most generous philanthropists. He also built out the business education franchise online in the mid-1990s, setting the stage for a highly regarded online community and one that has reaped tens of millions of dollars in annual revenue for BusinessWeek. He has been a frequent commentator on television, having appeared on CNN's Moneyline and CNBC's Squawk Box and Business Center.
Mr. Byrne is the author or co-author of more than ten books on business, leadership, and management, including two national bestsellers. World Changers, to be published by Penguin Books' Portfolio imprint, is his first book in ten years. His previous book, published Sept. 11, 2001 by Warner Books, was Jack: Straight from the Gut, the highly anticipated collaboration with former General Electric Co. CEO Jack Welch. The book debuted at the very top of The New York Times bestseller list and remained on the list for 26 consecutive weeks. Mr. Byrne has written or co-authored seven other books, including Chainsaw (HarperCollins, 1999), the behind-the-scenes story of Al Dunlap's rise and fall as a business celebrity. The book received widespread acclaim. Publishers Weekly called the book a "blistering saga" and a "sizzling tale." The Street.com said Chainsaw "should be required reading in all business and accounting schools."
Mr. Byrne's other books include: Informed Consent (McGraw-Hill, 1995); The Headhunters (MacMillan, 1986); Odyssey (Harper & Row, 1987), the business biography of former Apple Computer chairman John Sculley; and The Whiz Kids (Currency/Doubleday, 1993), which explored the life and times of ten Army Air Force officers who helped to remake the Ford Motor Co. in the post-war period. Managment guru Tom Peters called The Whiz Kids "an important milestone in American management analysis. Warren Bennis has said the book is "the best history of American business from World War II to the present." Mr. Byrne also wrote BusinessWeek's Guide to the Best Business Schools (McGraw-Hill, 1989, 1990, 1993, 1995, and 1997) and co-wrote BusinessWeek's Guide to the Best Executive Education Programs (McGraw-Hill, 1992).
As part of a new book imprint division at Poets&Quants, Byrne also is the co-author of "Handicapping Your MBA Odds: Profiles of 101 Applicants & Their Odds of Getting Into a Top Business School." The book was published in the summer of 2012.
https://questromworld.bu.edu/businesseducationjam/wp-content/uploads/sites/10/2014/09/John-Byrne.jpg
300
300
admin
https://questromworld.bu.edu/businesseducationjam/wp-content/uploads/sites/10/2014/06/IBMJam-wordmarklogo.png
admin
2014-09-17 16:00:19
2022-10-24 15:31:26
John A. Byrne, President, Editor in Chief, Poets & Quants