CONTACT THE GRADUATE ADMISSIONS & FINANCIAL AID OFFICE
---
RESOURCES
---
Here you'll find a range of resources that will guide you as you transition to a Boston University Questrom School of Business Online MBA student.
Student Health Center
While online students are not eligible for treatment at BU's on-campus Student Health Services offices, staff are always available to consult with in emergency situations. Students experiencing a mental health crisis may call 617-353-3569 for Behavioral Medicine or 617-353-3575 for primary care at any time. Staff can help by providing referrals to agencies in your local community, or direct you to resources that are able to assist you in your health and wellness. Please visit the Student Health Services website for more information, and review these national resources addressing mental health and physical well-being.
Meet the OMBA Faculty
The same world-class faculty that teach in Questrom's on-campus MBA programs, also teach in the Online MBA. Meet them here.
Contact a Current Student
Looking for insight to what it's like to be an Online MBA student? Contact our students and ask them about their experience in the program!
OMBA Affinity Groups
New England Students in OMBA
50+ Students in OMBA
South Floridian Students in OMBA
Chinese Students in OMBA
Negotiation & Conflict Resolution
Women in OMBA
Black Students in OMBA
Management, Advisory, Consulting (MAC)
Latin@ Students in OMBA
PRIDE in OMBA
Thinking Analytics
Philadelphia Regional Students in OMBA
San Francisco Bay Area Regional Students in OMBA
Singapore Students in OMBA
Indian Students in OMBA
Washington DC Regional Students in OMBA
and more..
---
Note:
More information about how to join each group will be sent out during Module 0
Follow: buquestromomba on Instagram to receive the most updated information about upcoming events.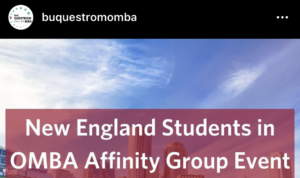 Registration
You will be automatically registered for MOD 0 and MOD 1 by the Student Success Team.
Weekly Learning Journey
Preview your weekly learning journey and get an sense of the weekly commitment ahead. Click the link here to our website and select "weekly learning Journey" located on the top menu.
Career Services
Students will have access to the BU and Questrom online networking platforms and recruitment site (Handshake). In addition, students will have access to a number of online career resources available to BU online students. While at this time one-on-one appointments with Questrom career staff are not a service offering, Online MBA students may attend any on-campus events that are not restricted to a certain population – similar to all BU and Questrom students. Population restrictions are visible on event calendars and on Handshake.
Handshake
Access your Handshake account once the semester begins.