Indian Driving, Shopping Malls and Soccer: Week One at EDI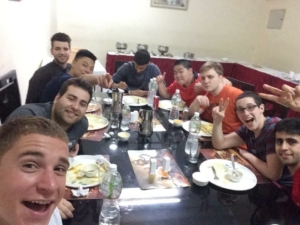 Our first group excursion was to one of the biggest malls in Ahmedabad called Alpha Mall. Joe, one of our colleagues from Boston University, had a shopping spree so we left him to his own devices. Myself, George (another Boston student) and Tony to continue to roam the western influenced shopping centre and found some cool Indian shops. Making a few purchases and all equipped with the classic kurat top – a long sleeve shirt, that comes in three sizes, knee level, above the knee, and waist level – we went to check out the food hall and to meet the others. Gujurat is a Hindu state so the diet is strictly vegetarian, and no meat was on sale. There was an array of different veggie dishes on our table. By far the most impressive was Rocky's masala dosa, a massive pancake stuff with potato masala and served with a few sauces. Chris caused some hysteria as when we were about to drive off he was missing. We search for a good 15 minutes in the supermarket only to see him coming down the escalator chewing gum like nothing was wrong.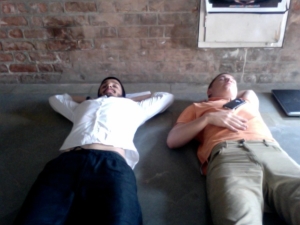 On day one, there was an introductory talk to the EDI interns by Dr. Umesh Menon, and we met our supervisors afterwards. Joe and I were set some reading, to understand what services EDI had to offer and the particular cluster we would be working in. Most of the reading was done by the afternoon and whilst waiting for the last document to be emailed to us we decided to chill.
After another presentation and a few more discussions, the picture we were painting of EDI and the work needed from us became more vivid.  There seemed to be a degree of autonomy. This continued throughout the week; it was down to us to promote and probe the supervisors to channel us in a direction. It wasn't until Wednesday that a more detailed plan of what was expected of us for the next three weeks was conveyed to us, and that's when the real work began.
Apart from work, the evenings have been eventful. At 18:30 we meet some of the locals on campus for a game of soccer. It gives us the chance to bond with the lads and also show off our skills and dominate the pitch. Afterwards there is a civil banquet, which consists of dal, a sabjee, rice and a chapatti (flat bread). Since we are a diverse bunch the conversation is bases around the difference in our cultures.
Our first week has been filled with great learning experiences in both culture and business. For next week, we are looking forward to visiting the blacksmith cluster we are currently studying to perform field research and implement our action plan.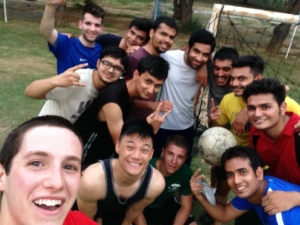 https://questromworld.bu.edu/studyabroad/wp-content/uploads/sites/22/2015/07/EDI-first-day9-1.jpg
960
1280
admin
https://questromworld.bu.edu/studyabroad/wp-content/uploads/sites/22/2022/05/Questrom_icon-red-horizontal-1-300x109-1.png
admin
2015-07-30 12:16:40
2022-10-11 20:07:16
Indian Driving, Shopping Malls and Soccer: Week One at EDI