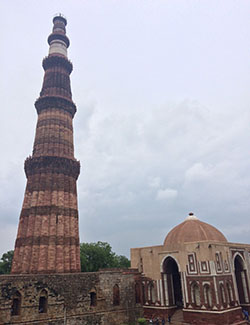 Discovering Delhi, Punjabi Dancing and Indian Hospitality: Week 2 with the Bharti Foundation, India
The team headed into week 2 free of illness and high in spirits. Saturday saw us venture into Old Delhi, the original city before the British built the new capital in 1947, via another pleasant metro ride that is putting the London underground well in its place. We felt this was our first taste of 'real India,' and getting lost in the backstreet markets unintentionally added to this experience. We finally made it to the Red Fort after stopping for masala dosas on the way. The fort itself was bre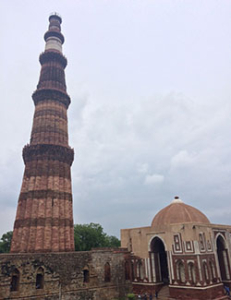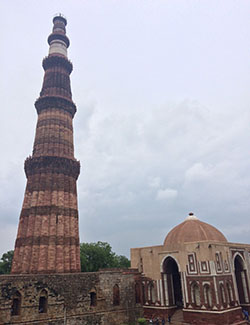 athtaking, and was in remarkable condition considering it was built from sandstone in the 17th century.
On Sunday, the team headed to Qutb Minar in a cosy 36°C (in hindsight, wearing a grey cotton t-shirt was a huge mistake). This was a monument built in 1193 by Qutub-ud-din Aibak immediately after the defeat of Delhi's last Hindu kingdom. This marked the start of a 5 century long Turkic Muslim Dynasty in Delhi
Sunday night gave us our first taste of Indian 'disco' at Cyber-Hub, a collection of upmarket bars and shops in Gurgaon. Our attempts at Punjabi dancing seemed to amuse the locals, although the compliments of two Germans gave us some hope. However, the conversation soon turned to 'Brexit,' and the team decided to call it a night there and then.
Work this week had us focusing on preparing for our research that the team is due to conduct next week in two New Delhi Government schools. Monday involved a presentation on our preliminary research task. On Tuesday, the team visited the two schools that will be used to conduct our research. The team was pleasantly surprised by the schools, as they had very good infrastructure, and there seemed to be a very healthy atmosphere among the students. The hospitality was outstanding; we were near force-fed a selection of Indian snacks such as samosas and halwa, complemented with chai tea. Our research is broadly trying to improve the quality of rural education in India and this field trip gave us a unique insight into what we wanted to find out next week.  The remaining 3 days of the week were spent producing our final research methodologies after consulting with Bharti team members.
The team is looking forward to another weekend exploring Delhi, and spending four days in the field next week (trying not to think about four days without air-con). Onwards and upwards!
GEO Bharti Interns
https://questromworld.bu.edu/studyabroad/wp-content/uploads/sites/22/2016/07/delhi.jpg
325
250
admin
https://questromworld.bu.edu/studyabroad/wp-content/uploads/sites/22/2022/05/Questrom_icon-red-horizontal-1-300x109-1.png
admin
2016-07-14 17:51:17
2022-10-11 20:06:52
Discovering Delhi, Punjabi Dancing and Indian Hospitality: Week 2 with the Bharti Foundation, India