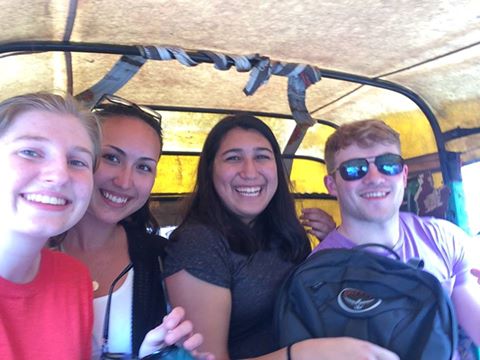 Peace, Love and Curry: Our First Week in India – SEWA Internship
After three long flights, we finally landed in India. None of us had ever been to India before, and some of us even Asia so we were all anxious and excited for what lied a head. The first thing we noticed about India was that they definitely drive differently than we do in the UK and the USA. There seems to be little regard for traffic laws, which makes every rickshaw ride exciting. The second, was the heat! The first thing we did when we got to our apartment in IIM-A was to turn the air conditioning and fans on full blast.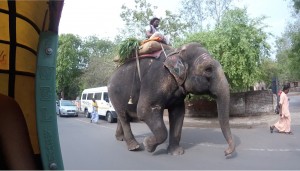 On our first day, we ambitiously decided to head out of campus to a mall nearby to get a few essentials such as water. While it was only a five minute walk, darting through traffic and asking for directions seemed to be easier said than done. We soon realised after speaking to our teammate Garima that most people in India don't actually walk, especially in the middle of the day when the sun is at its hottest.
Without Garima we would have been completely lost on the first day of work. Even with the address and google maps, we still got lost and had to take two rickshaws. We've gone to work without Garima most days this week and we're proud to say we've only gotten lost once. Our Rickshaw adventures are definitely one of the highlights of the day as every time we're out on the road we see animals ranging from camels to cows to even elephants.
While our first meal in India was a McChicken sandwich from McDonald's (how adventurous!), we've since tried a number of different Indian dishes. Some we liked and some we thought were… interesting but all-in-all we've enjoyed trying the variety of Indian food, which is a big part of Indian culture.
Overall, our first week has been a great beginning to our adventure and learning journey through India.
Peace, love, and curry,
GEO SEWA Interns
https://questromworld.bu.edu/studyabroad/wp-content/uploads/sites/22/2016/07/sewa2.jpg
360
480
admin
https://questromworld.bu.edu/studyabroad/wp-content/uploads/sites/22/2022/05/Questrom_icon-red-horizontal-1-300x109-1.png
admin
2016-07-14 18:40:34
2023-03-21 14:40:56
Peace, Love and Curry: Our First Week in India – SEWA Internship