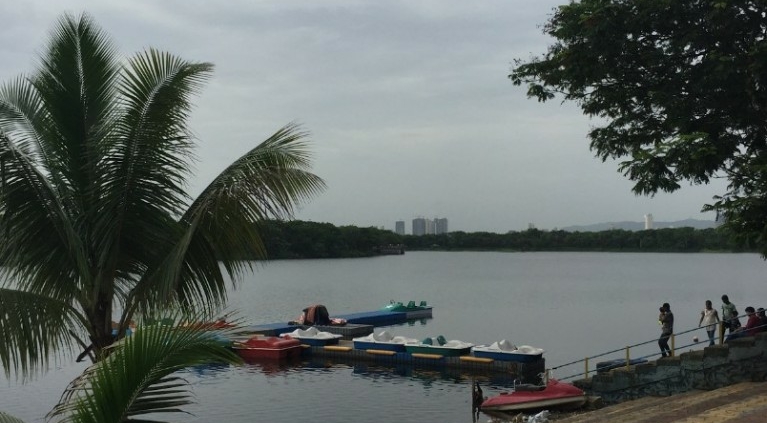 Week 5 at NISM: Blood, Sweat, Tears and Beers
The weekend was spent mostly in the office/ working on our reports, although we enjoyed breaking up the day on Sunday with another run around Vashi Pond, despite the disappointment at not being able to rent a pedalo…
Monday
In the morning we had our final session in the trading lab, where we incorporated real time news into forming our trading techniques. After lunch we had to crac
k on with our projects if we were going to get them finished by deadline on Tuesday evening. Upon realising that we were going to have to stay late at the office, we informed our supervisor, Nandini, who responded by asking us if we wanted breakfast. After the initial shock and concern that we were expected to stay overnight, we were relieved to discover that Indians have two breakfasts a day, and that Nandini had been referring to 'second breakfast' which, at NISM, is served at 5.30pm. This news only got better upon the revelation they had infact bought a mountain of Domino's pizza which we soldiered through.
Tuesday
A hectic day in the office spent finalising our projects. Today the excitement of second breakfast got a bit too much for us, when we decided to make the most of the endless McDonald's burgers with some of us (no names mentioned) consuming 5 each. Our supervisor came and found us looking very content to tell us, with a degree of concern, that the kitchen had infact only ordered one burger per person… and thus we gained the reputation of being the "greedy interns".
Wednesday
Having finally handed in our research projects the evening before, we spent the morning preparing to present them to the board in the afternoon. The presentations went well and we were pleased to find out that Sandip is planning to incorporate them into some NISM seminars. After work we headed out for beers with Nandini and Sandip to thank them for their fantastic supervision over the last few weeks.
Thursday
Our reports were returned to us with notes and we spent the morning making a few tweaks before officially handing them in. In the afternoon we were treated to another of Bollywood's comedy gems, called 'Tanu weds manu: Returns'. Without wanting to give too much away to potential future viewers, it involves several elaborate Indian weddings, a secret artificial insemination scandal, a sassy divorced Indian lady drunk wig shopping alone at night and it ends with a teenage athlete (confusingly played by the same actress as the sassy divorced lady) karate chopping a lawyer who has forcefully inhabited the divorcee's bedroom at her family home
. 10/10 would recommend.
Friday
Having finished all of our official work, the morning was taken up with certificate-giving and goodbyes, followed by a trip to SEBI for a tour and lunch with a member of the Director's Executive Team. In the evening we were treated to a lovely meal at the Mumbai Cricket Association Club with Sandip and his wife.
GEO NISM Interns
https://questromworld.bu.edu/studyabroad/wp-content/uploads/sites/22/2016/08/Ocean-2-1.jpg
1024
767
admin
https://questromworld.bu.edu/studyabroad/wp-content/uploads/sites/22/2022/05/Questrom_icon-red-horizontal-1-300x109-1.png
admin
2016-08-04 16:31:03
2022-10-11 20:06:39
Week 5 at NISM: Blood, Sweat, Tears and Beers