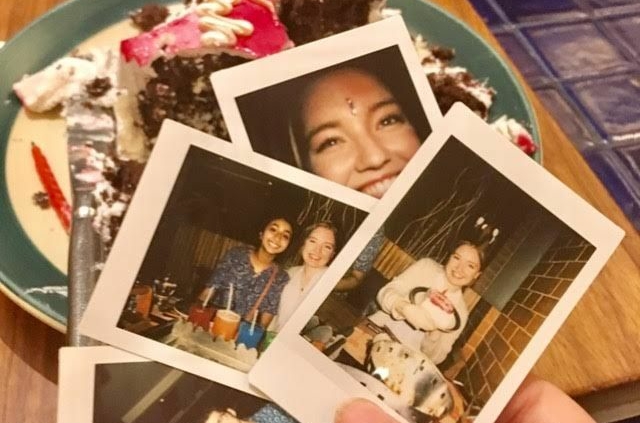 Birthdays, Bindis and Field Trips: Week Three at SEWA
My name is Kristin and I just finished my first year at Boston University studying Business Administration and Economics. My fellow interns and I are thoroughly enjoying our internship experience and we cannot believe that it is already halfway through. Being Indian American, I have been amazed by learning more about my heritage. Our third week in Ahmedabad, India interning with SEWA has challenged our cultural norms and has exposed us to celebrations of life and culture.
At the start of the week, we celebrated Liv's 20th birthday. For fun, we ventured to a bangle store to buy bindis (decorative stickers that women wear on their forehead) to wear for the special occasion. The multitude of colors and shapes surprised us and reminded me of my childhood. As per our Indian interns' suggestion, we had an Indian BBQ feast for dinner consisting of vegetarian and non-veg kabobs and a multitude of desserts. As Gujarat is a non-alcoholic state, we wished Liv into her next year of life with mocktails including Pina Coladas and Cinderellas. I don't think Liv would have imagined celebrating her 20th birthday with new friends in India, but it was a memorable time.
Our project of expanding the rural garment unit at SEWA has become clearer and we have decided on a distribution strategy. We were very fortunate to meet with Rama Bijapurkar, one of India's leading consultants on market strategy and consumer behavior. She helped us understand what rural women are looking for when they purchase clothes. In order to compare the modern garments that we will be implementing to the traditional hand embroidered garments, Liv and I ventured to SEWA's Hansiba store. These intricate and vibrant blouses and skirts were truly exotic—each piece took two years to produce! I have never seen Indian clothes of the past generations, and it was empowering to realize the importance of preserving the traditional hand embroidery in modern garments.
Along with Sakshi (our Indian intern), we travelled to the town of Radhanpur and village of Santalpur (about four hours away) to conduct market research. The women were so welcoming and hospitable as they allowed us inside their homes and served us all kinds of Gujarati snacks and kulfi (Indian ice cream). One woman said they had never had foreigners inside their homes before and were so happy that we came. In Santalpur, we were surrounded by half the village as we were roaming between clothing shops! As we learned of the differences between fabrics, many children came up to us and smiled when we waved at them. The experience was surreal as people were genuinely intrigued and also very helpful. We got a taste of the Indian rural culture and way of life—simple, colorful, and fastly growing. We had a lovely day.
This week we celebrated life with Liv's 20th birthday and we also celebrated the culture of India through our work at SEWA and especially through our site visit. We hope the next three weeks of our Indian adventure will be as eye-opening and delightful as our first three!
-Kristin
https://questromworld.bu.edu/studyabroad/wp-content/uploads/sites/22/2017/07/blog2.jpg
699
640
admin
https://questromworld.bu.edu/studyabroad/wp-content/uploads/sites/22/2022/05/Questrom_icon-red-horizontal-1-300x109-1.png
admin
2017-07-31 16:22:42
2022-10-11 20:06:25
Birthdays, Bindis and Field Trips: Week Three at SEWA