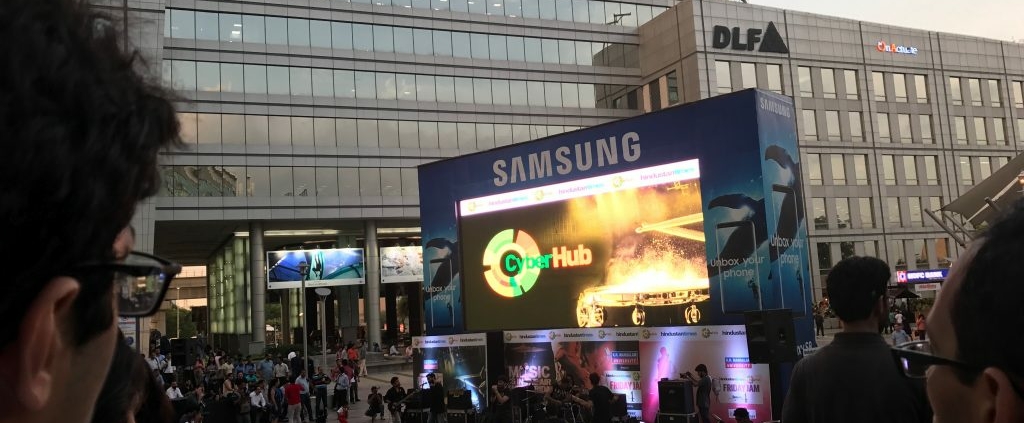 Bollywood Films, Brownies and Birthdays: Week Four at Bharti Foundation
This week has been fairly quiet as it has involved long days at the office collaborating all of our data we had collected from our week in Punjab last week. We had over 100 graphs, tables and pie charts to fit into a brief presentation next week. After work one day, the girls decided to go and see a Hindi rom com at the cinema. After the vigorous security search when we entered the mall we were greeted with it again going into the cinema. Unlike back home there is no way of sneaking food in as you have to leave your bag behind if you get caught with snacks. Annie found this out the hard way!
After the cinema, we decided we wanted to take a break from the normal curry, roti and rice. We found ourselves back at the famous Cyber Hub. There, we saw a Taco Bell…the British were completely clueless on what it was and eventually discovered how much they are missing out on amazing Mexican fast food.
This week was also Annie's 21st birthday! We celebrated by ordering an Oreo cake and various other desserts (or as the British say, pudding) …and yes, we got desserts delivered right to our door.
On Friday after our dinner at California Pizza Kitchen, we happened to see a typical Indian concert where the bands were playing hard rock music but the audience didn't seem to be quite engaged (probably because of the heat??). After all, this was another interesting experience, besides listening to the Hindi music on radios on the roads everyday.
Over the weekend, we went to a unique restaurant. There, they made a dish called "Dodha Brownie Bath Tub", and when they served it, it was literally brownies in a bathtub. They added in chocolate foam to make the bubbles, and this was probably the best brownie dish we have ever had. The most interesting part was the vessels they served our drinks in. One was served in dried ice, so it was smoking when we got it. And another was served in a glass mug, which is odd for a cocktail. The views from the restaurant were exceptional as we were sitting on the rooftop.
After this we decided to see what else Delhi nightlife had to offer and ventured out further and found ourselves at another bar. There was some fun dancing and, by Indian standards, some expensive drinks! We danced with some very enthusiastic Indians and had a bit of a laugh with them and found their enthusiasm very entertaining.
Two more weeks to go!
-Avnee
https://questromworld.bu.edu/studyabroad/wp-content/uploads/sites/22/2017/07/IMG_1027-1024x768-1.jpg
768
1024
admin
https://questromworld.bu.edu/studyabroad/wp-content/uploads/sites/22/2022/05/Questrom_icon-red-horizontal-1-300x109-1.png
admin
2017-07-31 16:33:52
2022-10-11 20:06:25
Bollywood Films, Brownies and Birthdays: Week Four at Bharti Foundation