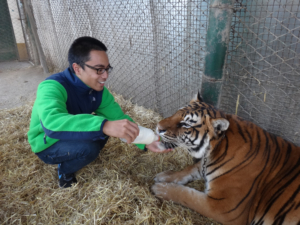 Interned in Broadcast Journalism with LRA Radio Nacional while studying Spanish and literature at Universidad de Palermo, Summer 2013
Internship: I worked with LRA Radio Nacional, which can best be described as the Argentine version of NPR. I had to come in twice per week to assist in any sort of small job that people in the workplace had for me, like getting a CD for a disc jockey. Most of the time, though, the workers were so busy doing their own thing that there were no small jobs to be done. Consequently, the majority of my time was simply spent having conversations with the behind-the-scenes workers, learning about their jobs, and practicing my Spanish with them. I even got to be on air a couple of times!
Eventually everyone in the workplace got to know me and would refer to me as "California" or the "Golden Boy," just for laughs. (I'm originally from Santa Clara, CA, in the San Francisco Bay Area. My home state and area was often a topic of conversation with everyone there.) Not only was working at LRA Radio Nacional an awesome insight into the radio broadcast production process, but also it was a fantastic way to practice my second language and form relationships with everyone during that process.
I Learned: Within the classroom, we worked a lot on Argentine literature and had many guest speakers come to talk to us. Because of that, I was able to learn what exactly goes through the mind of a writer when he or she works on a novel and the process of getting that novel published. We even talked to an author by the name of Guillermo Martínez who saw one of his books (Crímenes imperceptibles) be developed into a film! He told us about when he was initially contacted by the filmmakers and how he was able to work firsthand on the development of The Oxford Murders, starring Elijah Wood.
In my personal time, I learned how skillful I can be with directions, how to live without a 4G cell phone 24/7, and how people in Argentina eat pizza (with a fork and knife). I also got a bit of a "backpacking bug" during my travels after getting to know a couple of people going around South America on their own. I learned how to travel efficiently on my own while budgeting my money and seeing as many sites as possible within an allotted amount of time.
Comparing/Contrasting My Work Experiences: Perhaps it's because I interned at a radio broadcasting station, but I found the workplace in Argentina to be much more relaxed than it is in the United States. There was a thing called "Argentine time," during which the workers would casually stroll in fashionably late and not have it be too big of a deal. Plenty of their time was spent having conversations with their coworkers and sipping on some coffee that the busboy at the nearby cafe would personally deliver. It was also a very welcoming environment, where everyone would greet one another with a kiss on the cheek.
Hardest Part: The most difficult part of my study abroad experience was adjusting to the lifestyle differences between what I'm used to in the United States and what's common in Argentina. This was best exemplified by the difference in normalcy when it comes to eating times. The Porteños — a nickname for the people of Buenos Aires — like to sleep in, so they often have a very quick breakfast that consists of just coffee, sometimes a light pastry on the side. They also like to stay up late, so they have dinner at extremely late times. I think the earliest time my host mom served dinner was 8 PM. Sometimes we got dinner at 10 PM!
Best Part: People have always told me that the best way to learn a new language is to completely immerse yourself around it — that's exactly what happened during my time in Argentina. I got a thrill out of testing my limits by having conversations with complete strangers (who were all very nice) and watching movies & television programs in Spanish. In addition, I improved within the classroom, the workplace, and during my solo travels throughout Argentina, Uruguay, and Brazil. I had always thought that South America was an underrated destination point for many travelers, and after traveling around there and learning so much from it, I definitely stand by that viewpoint.
I also visited many museums and zoos during my time down there, including the famous Lujan Zoo, an extreme petting zoo where you can pet lions, tigers, and bears — oh my!
Oh, and the beef and wine live up to all of the expectations that one may have before coming to Argentina.
https://questromworld.bu.edu/studyabroad/wp-content/uploads/sites/22/2013/08/Buenos-Aires-Tiger-scaled.jpg
1920
2560
admin
https://questromworld.bu.edu/studyabroad/wp-content/uploads/sites/22/2022/05/Questrom_icon-red-horizontal-1-300x109-1.png
admin
2013-08-28 13:52:18
2022-10-11 20:09:28
Jonathan Reyes, Argentina Cultural Studies Program