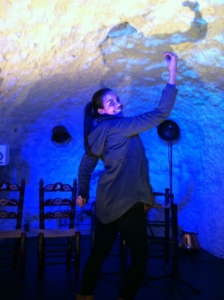 Interned at The Music Word of Mouth Company.
This past spring (Spring 2015) I studied abroad in Madrid, Spain, through the Madrid Management Internship Program. I am a native Spanish speaker, and I have always dreamed of studying abroad in Spain, where I knew I could assimilate very easily and strengthen my Spanish-speaking skills. I had done extensive research on Madrid (I bookmarked places to see/things to do months before arriving), so I had an idea of what my time there would be like. After 4.5 months of living, working, and studying in Madrid, my experience exceeded all of my expectations, and I truly felt like I belonged there. I became a Madrileña. Madrid is a beautiful city filled with vibrant people, a deep history, astounding architecture, a great transportation system, awesome nightlife… it has everything! Plus, it's not that expensive, as opposed to other study abroad locations.
Internship: I was the marketing intern for a small music company called The Music Word of Mouth (MUWOM), which is located in the trendy neighborhood of Chueca. MUWOM works to unite artists and brands through content generation and the use of the Internet and social media. I helped manage the social media accounts of MUWOM's music artists. I conducted research and prepared reports on MUWOM's competitors to improve the company's strategy in generating content and experiences through music. I also contributed to the company's blog by reporting on current news within the media, music and marketing fields. Overall, I had a pleasant time at my internship, and I was introduced to a couple of well-known and underground Spanish musicians.
I Learned: I gained a better understanding of the financial crisis and how it has affected Europe, and in particular, Spain. From my International Business class, I learned how to view situations from different angles and not just from an American viewpoint. My time abroad solidified my plans to concentrate in International Management and someday work for an international company.
I was Surprised: I was really surprised by how little clothing I actually needed throughout the months. I packed two suitcases, and I thought I had packed too little. However, I learned that I didn't need all of it. I even donated some of my own clothing before returning to the US, which gave me more space for souvenirs and things I purchased along the way.
I was also surprised by the metro and bus systems in Madrid. They're awesome: fast, convenient, clean, and reliable – nothing like the MTA or the MBTA.
The Hardest Part: The hardest part of my experience was dealing with a family loss a couple of weeks into the start of the program. I decided not to travel back home because I knew it would be harder to go, then leave my family and return to Madrid, than to just not go home. My family was very understanding, and they, alongside my host family and friends, supported me and helped me through that difficult time. Although I lost someone very special to me, I knew that he would want me to fully enjoy my time in Madrid.
The Best Part: The absolute best part was living with my host family. I lived with a married couple and their sweet and funny twin 15-year old boys. They welcomed me into their home with the biggest hugs and kisses (and a huge plate of paella). I had my own room and bathroom, and I always felt comfortable with them. Plus, my host mom is one of the best cooks ever – she was considerate of the things I did and didn't like, and always had something new for me to taste.
My tips: 
Arrive with an open mind, and embrace the cultural differences.
Befriend locals: madrileños are awesome, and they know how to have fun!
Plan your travels ahead of time so you can save money.
Take advantage of the cultural reimbursements and explore Spain.
Enjoy all the tapas, beer and wine your heart desires, ¿vale?
I loved, loved, loved my time in Madrid, and I hope to return very soon. As they say, "de Madrid al cielo, y desde el cielo, un agujerito para verlo."
Thank you for reading! Contact me at luisamc@bu.edu if have any questions or concerns about studying abroad in Madrid.
https://questromworld.bu.edu/studyabroad/wp-content/uploads/sites/22/2014/08/At-a-Flamenco-Show-in-Granada.jpg
960
717
admin
https://questromworld.bu.edu/studyabroad/wp-content/uploads/sites/22/2022/05/Questrom_icon-red-horizontal-1-300x109-1.png
admin
2014-08-07 10:01:34
2022-10-11 20:08:27
Luisa Colon, Madrid Management Internship