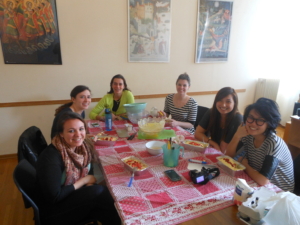 Interned at Sit La Precisa.
I studied in Padua, Italy during the Spring of 2014. I interned at the headquarters of an Italian manufacturing company called Sit Group (or "Sit La Precisa") that makes gas valves and related components.  At the start of my internship, the company had just acquired a new information system, SAP.  As a change management intern, I worked closely with the controlling and finance departments to help implement this system.  At the time, the headquarters was the only company within the group that had access to enter the master data into the system, such as supplier and vendor information and orders.  The other companies within the group would send their master data requests to the headquarters and we would input the data for them to keep the data entry consistent as we learned how to use the new system. I spent my time learning how to use SAP by inputting the master data that the controlling department gave to me.  Towards the end of my internship (when I was fairly comfortable with the system), I wrote the procedure for entering the master customer data for the other Sit companies to use.  Although for much of my internship we spoke Italian, the company had me write the procedure in English since I was the only native speaker presently at the company, which was pretty cool.
I learned: I learned a lot about international business, both from my internship experience and through my host family.  You can learn all about how business is different overseas, but experiencing it first hand through a full-immersion program teaches you things that being in a classroom or reading a textbook can't.  In my international HR course, we learned about several business and cultural differences among countries, but everything made so much more sense each time I had an "a-ha!" moment once I was in the field.
On a sillier note, I was surprised how much I learned from the Italian friends that I made.  For example, I realized that everyone could tell that I was American before I even said anything.  When I asked my friends how people know, they told me to watch the people around me next time I was walking through town.  Soon enough, I figured it out: the shoes! Italians can tell if you're American, German, French, etc. based off the shoes you're wearing! At first I still didn't really get how they did it, but after living there for 5 months, I found myself staring at people's feet when walking in town.  It became a game among my friends and me, and I got pretty good at it!
I was surprised by: I went to Padua without knowing a word of Italian.  I'd spoken Spanish since I was 8 years old, but hadn't even taken a Spanish class since high school.  But after living in Padua for 3 months, I became pretty good at the language!  I'd only taken an Italian language course for a couple of months, but among my host family, my friends, the BU Padua staff, and living in a non-touristy area of Italy, I was really pushed to learn and use Italian whenever I could.  The full-immersion program made the transition so much easier and faster than I anticipated!
The hardest part: The hardest part for me was adjusting to the Italian school system.  Coming from SMG, I'm very used to working on group projects, writing papers, and working with other students from across the globe.  After a couple of months, we learned that our Italian classmates weren't used to this sort of classroom structure of working with others and writing papers, which posed a challenge to me when it came to our group projects.  The Italians were very focused on the exams, which were structured differently than the exams that I'm used to taking at BU.  However, we learned a lot from each other. The adjustment was just a challenge.
The best part: I can't explain the difference that having a host family makes.  It's like having your very own personal resources, tour guides, and a supportive family figure there with you while you're away from home for 5 months.  I feel like I got so much more out of the program because of my host family, and I got a very good feel of what it's like to live in Padua, or Italy in general.  I would come home from school and watch a word game on TV with my host mom (which helped improve my vocabulary) as she made dinner.  The last few weeks she was having me cook, instead, as she taught me how to make a few simple dishes.  I felt like a part of the family, and I could tell they were as excited to host me as I was to be there.
My tips: The school system at the university is much different from a typical American school system.  The other Italian students in your classes are your best resources.  They understand the grading system, how tests are normally structured, and the best ways to prepare for exams, which account for a fairly large chunk of your overall grades.  Get to know them, sit with them at class, practice your Italian speaking skills, let them help you improve, and most importantly, form study groups with them.  It will make exam periods much less stressful, not to mention they're fun people to hang out with during down time or on weekends!
Many people who study abroad try to go to as many countries as they can in a short period of time, sometimes a country each weekend.  I stayed mostly in Italy, making only 2 international trips (London and Vienna), and I couldn't be more content with my decision.  There is so much to see in Italy itself, from Juliet's balcony in Verona to the beaches and old-fashioned fishing nets in Sottomarina.  Don't forget where you are– find those "mom and pop," off-the-map type places for lunch, take advantage of your host family and let them take you around to surrounding areas with friends, make friends with the other Italian students, and don't forget to stay in Padua from time to time to do some exploring of your own. Get to know Italy really well.  Who knows if you'll get to live in Italy again for five months under these circumstances?  Other destinations will always be there.
https://questromworld.bu.edu/studyabroad/wp-content/uploads/sites/22/2014/08/Casey-Group-Dinner-1-scaled.jpg
1920
2560
admin
https://questromworld.bu.edu/studyabroad/wp-content/uploads/sites/22/2022/05/Questrom_icon-red-horizontal-1-300x109-1.png
admin
2014-08-21 11:40:50
2022-10-11 20:07:40
Casey Marshella, Padua