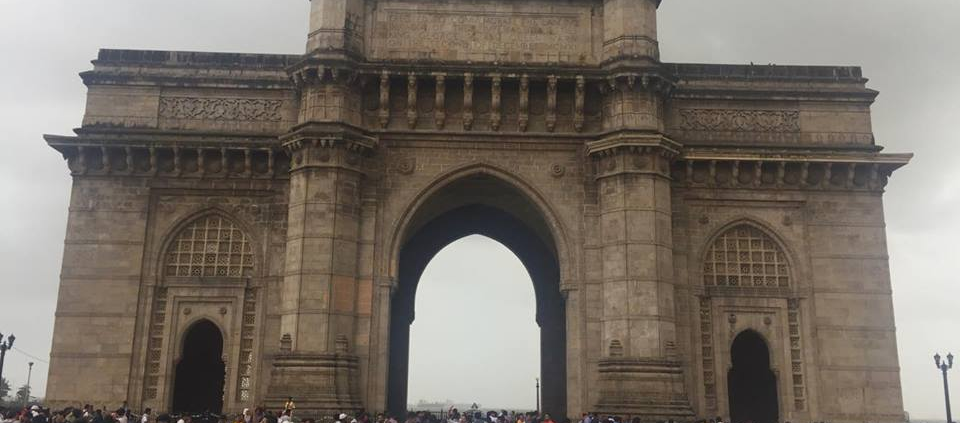 Our Second Week in Mumbai- Week Two at NISM
Saturday July 1st
Today we headed into Mumbai to do some sightseeing. It was super busy and with us being the only Western people there, literally a whole crowd of Indian people wanted selfies with us. We walked around looking at some amazing colonial architecture and saw the Gateway of India which did not disappoint…
…until the heavens opened and we ended up looking like drowned rats (Memo looked like he'd just won a wet t-shirt competition). But as it's monsoon season, this is just the usual and after five minutes it stopped and we carried on like before. Walking around the markets, Arran and Max successfully tried their hands at bartering and bought some wavey shades. We then went to Leopold Cafe, an infamous traveller hotspot since 1871, for some dubious looking food and lukewarm Kingfishers.
From there, we went on to the Stock Exchange Bar, as recommended by the interns the year before us, where prices of drinks fluctuate throughout the afternoon. As true finance students, we hedged our risk by making friends with the bartender to ensure fixed prices for our Bombay Sapphires. We sipped G&Ts on the rooftop and people-watched the hustle and bustle of Mumbai city centre, before heading back in an Uber, in which Arran took over the stereo!
Sunday July 2nd
Sunday is meant for rest and that's exactly what we did on this day. After our first full work-week in India and a fun weekend adapting to the time difference, food, and general way of life, we stayed home for the most part of the day – sleeping and watching TV shows. But most importantly, resting and preparing for the commencement of our research the following day.
Monday July 3rd
After an exciting weekend, the first few days back at work were rather uneventful. In the absence of our supervisor Sandeep, we were a bit rudderless and spent Monday mostly reading papers and narrowing down our research plan. This turned out to be an agonising endeavour, given the broad scope of our topics, and the limited time available to us. As this may not have been the most productive day so far, we'll instead view it as a helpful exercise in self-reliance and determination. Luckily, we found comfort in our after-work routine of gym and Netflix, and enjoyed a wonderful meal, prepared by our wifi-scrounging friend Kartik.
Tuesday July 4th
Consulting with our other supervisor (Mr. Panda) and Professor Chari on Tuesday proved to be beneficial, as we were able to make incremental progress, although the quest for useable data is still ongoing. In the afternoon, we attended a presentation by several Thomson Reuters representatives, who came to NISM to outline the benefits of (and ultimately sell) their Eikon analytics software. While it was not immediately pertinent to our research project, it did offer us a glimpse into how business is conducted in India and the rep was able to give us a useful introduction to the possibilities of the Eikon software. In the evening we were delighted to receive an invitation to the annual SBI Banking and Economics Conclave, to be held on Thursday. 
Wednesday July 5th
Hump day arrived quickly. We had our regular breakfast around 9am and got ready for another day at the office. Our team met with Dr. Latha Chari, who provided guidance for our research. This day we started diving deeper into our project, and the workday flew by.
After the workday was over, we went over to Inorbit Mall to buy a couple necessary goods, such as underwear (because at this point we're still figuring out what to do about laundry and toiletries). To reward ourselves for our accomplishments of the day, we made a quick stop at Tight Bar. The friendly manager gave us the iconic Tight shirt worn by the employees there as a gift, along with some shot glasses.  Afterwards, we headed back home to relax and enjoy another chill night before a big day on Thursday.
Thursday July 6th
Today was different. We woke up an hour earlier than usual (and even skipped breakfast) for an important event: the 4th SBI (State Bank of India) Banking & Economics Conclave, held at the beautiful Taj Mahal Palace Hotel, just next to the historic Gateway of India. Bankers, economists, business men and women, and journalists from top institutions in the country attended and formed panels where they debated their opinions and standpoints on issues including demonetisation, the new GST (single tax), and future growth opportunities for India.
Lunchtime finally came and we were starving. Today's meal could be possibly called one of the best we've had in India. The best part was the table of desserts, which included ice cream, different small cakes, and rasgulla.
Friday July 7th
Friday morning has so far been another regular workday at the office. We are continuing our research papers and working on the approach papers that are soon-to-be delivered to our supervisor. We look forward to another fun weekend in India!
-Guillermo
https://questromworld.bu.edu/studyabroad/wp-content/uploads/sites/22/2017/07/NISM-1.png
719
960
admin
https://questromworld.bu.edu/studyabroad/wp-content/uploads/sites/22/2022/05/Questrom_icon-red-horizontal-1-300x109-1.png
admin
2017-07-31 16:05:34
2022-10-11 20:06:25
Our Second Week in Mumbai- Week Two at NISM