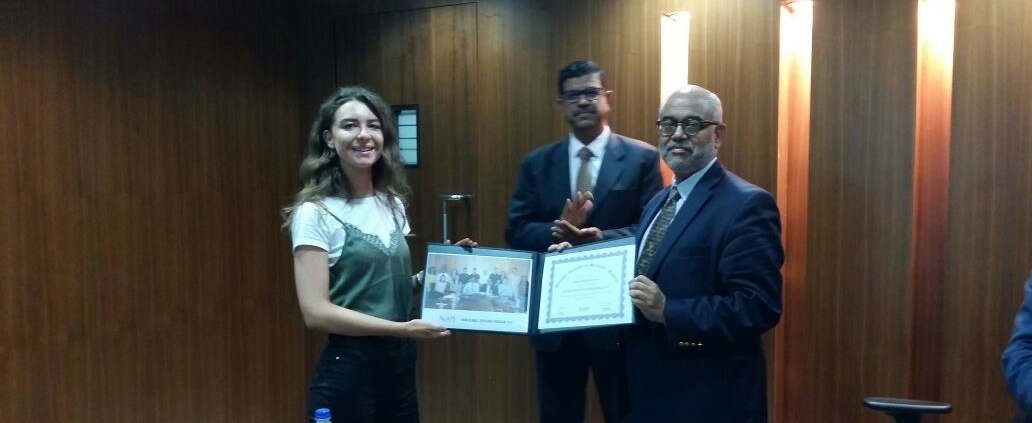 Monday, July 31st
The time had come. This was our last week as interns for NISM in Mumbai. We felt a sense of excitement and satisfaction as our short but hard work was coming to an end, but at the same time had a feeling of nostalgia as we were spending our last days together.
Monday was officially our last full day at work, since Tuesday we were visiting the National Stock Exchange (NSE) and Securities and Exchange Board of India (SEBI), and on Wednesday the teams presented the results of our research to the NISM organizational board. So this day went by very quickly with final touches, editions, and additions being implemented on our work.
Tuesday, August 1st
On this day, we were notified we would visit the NSE and SEBI on the afternoon – and not in the morning as was planned – so we decided to go to the office for a few last hours to finalize our papers and presentations. After lunch, we jumped in to the NISM van and headed downtown for our visit.
Upon arrival to the NSE, we were guided to a conference room where we were served drinks and offered a couple of presentations on the general functions and history of the stock exchange, as well as the several aspects of regulation the NSE is subject to. Photographs of both the interior and exterior of the NSE building were prohibited – which is why we were unable to include images on this blog. However, a Google search of such magnificent building is definitely worth a couple minutes of your time.
Following the visit to the NSE, we then stopped by SEBI, where executive director Amarjeet Singh offered a very interactive presentation on in which we the interns participated in a fun Q&A session with the Director. Following our brief visit, we battled Mumbai´s traffic to head back home for a delicious meal and well-deserved rest for a big day the next day.
Wednesday, August 2nd
This was the day in which our work would be finalized. We arrived to NISM at our regular time (9 AM) in the morning and prepared any final details for our work and even had some time to practice our parts of the presentation. Everyone was a bit nervous but even more proud of our hard work and eager to show our final results in hopes of receiving the approval of the NISM board. At noon, we had lunch and practiced a bit more, but then realized the time had finally arrived as we headed towards the conference room.
The teams presented really well. Some of us were nervous at first, but as soon as we started presenting our final work, a wave of courage and even satisfaction helped us overcome our nervousness and present our work with pride and a smile on our face. After very positive comments and constructive feedback from our peers at NISM, each one of us received a certificate of the completion of our work, took some photographs, and it finally hit us that our work had been finished. It had all gone by very quickly after all.
Right after our presentations were over, NISM Director Sandip Ghose – along with his adorable wife and a couple of helpful NISM employees – invited us to a wonderful dinner in which we never made it to the main course, since we were full after being served entrée after entrée after entrée. It was amazing. What a feast we enjoyed as a final touch to our experience at NISM.
Following dinner, we decided to have a couple drinks as our final goodbye at our now-favorite Tight Bar. These moments again were filled by a mix of feelings: nostalgia for our time together coming to an end but mostly happiness for the time we had shared as a team.
We headed back home early since two out of the five of us had flights to Goa early the following day.
Thursday, August 3rd
On Thursday morning, we woke up early (ish) to prepare: we paid for our gym membership, cleaned our rooms, packed our suitcases, and tipped and thanked the NISM staff that took very good care of us. Early in the afternoon, Arran and Saoirse left for the airport to catch their flight to Goa, where they would meet up with some interns from the RBI programme for a couple weeks of travel.
The rest of us, Koen, Max, and Memo, had dinner with the students from Edinburgh and with our friend Sandeep Biswal from NISM. Following dinner, we went home for an early night´s sleep.
Friday, August 4th
Koen, Max, and Memo woke up early for their early flight to New Delhi. Their plan was to visit the golden triangle for four days – after which Memo would fly back home – and Koen and Max would continue their adventure in India for a couple more weeks before returning home themselves. It all went by very quickly; it was a one-in-a-lifetime experience and lesson none of us will ever forget.
https://questromworld.bu.edu/studyabroad/wp-content/uploads/sites/22/2017/08/cxvx.jpg
581
1032
admin
https://questromworld.bu.edu/studyabroad/wp-content/uploads/sites/22/2022/05/Questrom_icon-red-horizontal-1-300x109-1.png
admin
2017-08-28 21:03:32
2022-10-11 20:06:25
NISM- The Final Week