My Study Abroad Experience: Kennia Garcia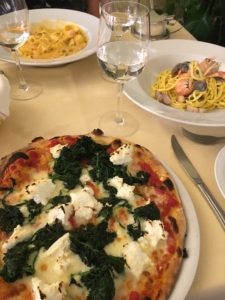 Where and when did you study abroad/off-campus?
I studied abroad in Padua, Italy, during my Spring Semester 2017.
What did you do for your internship and what kinds of projects were you assigned (if you had one)?
I interned at Sinedi S.r.l., a management consulting firm. The company focuses on strategy and organizational structure, decision support systems, private equity, and executive education. During my internship, I reclassified financial statements, prepared abstracts of potential clients that included a description of the company and its products, supported business intelligence projects, gathered research on venture capitalists in the Veneto region, and performed marketing-related functions.
What are two things you learned from your time abroad/off-campus that you may not have learned otherwise?
I took Italian language classes in high school and during my freshman year of college. While I did learn Italian grammar and vocabulary, I lacked an understanding of common phrases and cultural norms specific to different regions. My host family, Italian professors, peers, and work colleagues taught me Italian expressions not written into textbooks. In addition to expanding my understanding of the Italian language, I became familiar with Italian cultural norms, especially customs related to food. Little things such as not ordering a cappuccino after 10am, referring to coffee as 'caffè' and not 'espresso', eating dinner very late in the day, and eating an entire pizza by yourself were all things I learned that show whether or not you truly understand Italian culture.
Second, I learned about cultural differences in business. Business etiquette is different all around the world and in an increasingly interconnected world, it's important to exhibit courtesy and respect. In the United States, showing up early means you are on time, being on time means you are late, and running late is unacceptable. I sat in on various meetings with company executives and rarely did they start on time. Oftentimes, business meetings are interrupted by caffè breaks and conversation about family. Adjusting to unfamiliar tendencies may feel wrong, but in the end, it is very necessary and ultimately results in a successful business deal.
What surprised you most about your time abroad/off-campus?
I was surprised by how much I learned about myself, the country in which I was living, and about travel. Being in unfamiliar places brought out the best in me. I was comfortable making mistakes because I grew from them. Without those temporary moments of embarrassment, I wouldn't have had as many laughs or stories to tell. My language skills improved drastically in a short amount of time after being totally immersed in an Italian environment. Finally, I was surprised by how quickly I learned how to book flights, trains, and accommodations. Traveling throughout Italy and all of Europe became somewhat easy and that's something I wasn't expecting.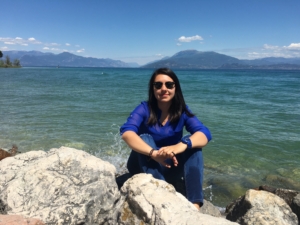 What was the hardest part of your experience?
I encountered challenges when I took classes at the University of Padua. Questrom is very different than the Department of Economics and Management at the University of Padua in many ways including classroom layouts, professor and student relationships, study spaces, and course expectations. At Questrom, I have worked on multiple team assignments with students from different parts of the world. We have been challenged to work in a team-oriented mindset and to complement each other's strengths. Most of the students in my classes had never worked in a team or written a research paper collectively in a small group. I felt frustrated at times because our standards of quality work differed greatly. Questrom provides team rooms and other study spaces to get work done, but I struggled with finding an enjoyable study spot. Boston University has different resources and I think it was difficult to adjust to those offered at UNIPD.
What was the best part of your experience?
I absolutely loved the food. The entire practice of eating an Italian meal is remarkable. The idea of eating an antipasto, which is a starter, followed by a primo and a secondo with a contorno, a side dish, and ending with a sweet dolce is quite an experience. Fresh ingredients and seasonal produce make for a delectable meal. Italy thrives on small family-owned restaurants which treat restaurant patrons like family. Not only was the food delicious, but the atmosphere created by the owners was very pleasant.
What are your best tips for those planning to study where you did?
I recommend getting familiar with basic Italian words and phrases. There are many opportunities to practice and expand your language skills, especially if you will be traveling. While most people in large cities and in Northern Italy speak English, it's nice and much appreciated if you can communicate in Italian. Since you will be living with a host family, be respectful of their space as well as yours. Try to share some of your own culture as much as they share theirs with you because there's beauty in mutual cultural exchanges. Finally, learn how to appreciate your own company. This program is one of the longer ones offered by Questrom. There will be times in which you find yourself alone and yearning for your friends and family's company, but take this time to do a lot of self-reflection and enjoy the things you can't get back home. Walk around, practice your Italian, eat lots of bread and cheese, and get lost every once in a while.
Are there any hidden gems that your classmates should check out?
Forno Zogno has delicious piadine and it's right by the Prato, Dalla Zita has cheap sandwiches and over 60 combinations, daPrette is a counter that sells panzerotti, La Romana has some of the best gelato in Padova, and the Coffee Box has awesome mugs, great wifi, and a taste of home if you ever miss the states. If you're into running or simply want to go on a nice walk, jog along the river. Last, many people don't know this, but students can get into the botanical garden for free and even do work there because they have wifi!
https://questromworld.bu.edu/studyabroad/wp-content/uploads/sites/22/2017/08/KenniaRomeColosseum-1-scaled.jpeg
1920
2560
admin
https://questromworld.bu.edu/studyabroad/wp-content/uploads/sites/22/2022/05/Questrom_icon-red-horizontal-1-300x109-1.png
admin
2017-08-30 22:18:15
2022-10-11 20:06:25
My Study Abroad Experience: Kennia Garcia