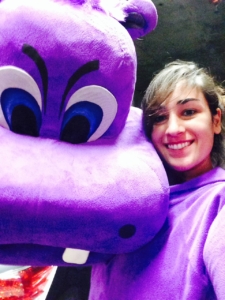 Interned at Mar Vista Entertainment providing input on potential films and at Fox 2000 in development and production, Fall 2014
Watch Laura's awarding-winning, animated film here.
About Me: I studied in Los Angeles for the fall semester of my senior year! Before you read my responses, I think it's important to note that I'm a Marketing major with a Film Minor. I chose the Film/Television Los Angeles track to strengthen my experience in that particular field. The reason why I'm a marketing major is because I love to share stories and I felt as though marketing was a way to share a story about a brand or product. However, in Los Angeles I learned an entirely different form of storytelling through my production and development internships that pulled at my heartstrings.
Internship: I had two! I interned at Mar Vista Entertainment, which produces TV movies for networks such as Lifetime, Syfy, Disney Channel, and CW. I did everything from pitching loglines for potential networks to writing coverage on books and scripts. I even was an extra in one of their movies and woke up at 5 in the morning to play "Track Girl 2."  One particular evening I went above and beyond my intern duties and dressed as a purple hippo for the red carpet premiere of a Disney Channel movie.  My other internship was a Development and Production internship at Fox 2000 on the Fox Studios lot. I LOVED  working there and gained so much experience writing notes on scripts and covering desks for assistants of Vice Presidents.  I also spent a lot of afternoons watching movies before their release in the studio theater and roaming around the wardrobe department eyeing Leonardo DiCaprio's Titanic attire.
I Learned: The only way truly to understand the entertainment industry in Los Angeles is to immerse yourself fully in it. While in Los Angeles, I made sure to make the most of my time there and networked with multiple professionals in the animation industry, a specific passion of mine. I reached out and met with producers, developers, artists, and editors at Walt Disney Animation Studios, DreamWorks, Paramount Animation, Fox Animation, Sony, Nickelodeon, and Warner Brother's Animation.  I learned about a world beyond graduation both professionally and personally.
What Surprised Me: I was surprised by how much I wasn't homesick and never felt alone when chasing after a dream of mine.  I also loved meeting the students who didn't study at Boston University but were involved in the program. A lot of them had a similar passion and drive, and we bonded over our love of entertainment. I also was shocked by how gorgeous the weather is in Los Angeles. Seriously – it's unfair to the rest of the world. I think I saw a cloud once in 4 months.
Hardest Part: Returning to Boston. I love the Questrom School of Business, but now I'm anxious to graduate since I've had such a wonderful taste of what my life could be like afterwards.
Best Part: There were so many incredible days I'm having a hard time choosing one. My top three are the Walt Disney Animation Open House, volunteering at CTNx, and winning the Grand Prize at the Los Angeles New Filmmakers film festival.
Through my networking I met wonderful people involved in production at Walt Disney Animation Studios and was invited by them to attend a closed event at the studio. The studio was transformed into a massive display of the work behind creating a Disney classic. I was able to watch the Oscar nominated short Feast before release in a Q&A session with the director and told him how much I loved that the main character was a Boston Terrier.
Per recommendation by a Disney employee I signed up to volunteer at CTNx, a weekend long animation exhibition. I met wonderful employees from Pixar, Walt Disney Animation, Blue Sky, and other studios. I cannot even capture in this blog the amount this experience has impacted me.
Before moving to LA, I learned about an opportunity to submit a short to the Los Angeles New Filmmakers Film Festival. I worked for over a month to create a stop-motion animation in my basement. My short was selected as a contestant and I attended an event in downtown Los Angeles. To my surprise, I won the Grand Prize and Category Prize, totaling in over $40,000 toward my next short and $1500 in cash! Throughout the evening I was interviewed and met wonderful creatives who I'm currently in touch with to produce my next short. The following morning I was interviewed by the Los Angeles Times.
My Tips: Bend the rules!! (and I don't mean party).
Don't spend every night going to clubs when you can do the same thing in Boston. I went outside the box and fully took advantage of being in LA. This is an experience you have to take; it won't be delivered on a silver platter for you. My nights were spent watching movies and reaching out to producers to schedule lunch meetings.  Despite the no-puppy-policy, I rescued two dogs. A baby Chihuahua I found abandoned on the Hollywood Hills and an Alaskan Husky who was trying to avoid being killed at the shelter. I named the Chihuahua Pancake and took care of her before finding her a loving home with a Fox Studio executive. The Husky was named Doyle, and he went home with a BULA student to Texas.
Hidden Gems: On the nights you do choose to go out, I'd recommend West Hollywood and the Sunset strip. Saddle Ranch was one of my favorite bars, and has a mechanical bull that I completely mastered. Also, go to the beaches as often as you can. Malibu, Manhattan, Santa Monica, and Venice can never steer you wrong.
https://questromworld.bu.edu/studyabroad/wp-content/uploads/sites/22/2015/02/Hippo1-1.jpg
675
450
admin
https://questromworld.bu.edu/studyabroad/wp-content/uploads/sites/22/2022/05/Questrom_icon-red-horizontal-1-300x109-1.png
admin
2015-02-24 13:00:10
2022-10-11 20:07:16
Laura Monti, Los Angeles Internship Program–Film & TV Track