Where and when did you study abroad/off-campus?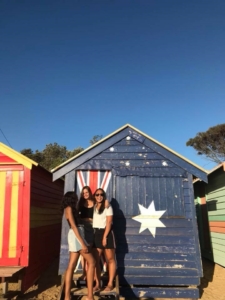 I studied abroad in Sydney, Australia Spring 2018.
What did you do for your internship and what kinds of projects were you assigned (if you had one)?
I was a marketing intern for Discovery Networks Asia-Pacific. If you're familiar with Discovery Channel, Animal Planet, or even TLC, then you know what "product" I was working with! As a marketing intern, I was rotated amongst different departments – communications, digital, creative services, media planning, and programming. While I had several different tasks depending on what team I was on, a few examples of things I did were:
I created a press release for Mama June Season 2 premiere
I inputted show ratings for several channels
I pitched a commercial that would integrate Mazda and Discovery's sports channel – Eurosport
What are two things you learned from your time abroad/off-campus that you may not have learned otherwise?
I learned how to be more adventurous! Being abroad means taking advantage of the little time you have in that new city. Rather than always saying no, I had to have an open mind to trying new experiences.
Time management! The idea of travelling within Australia was always a must-do for me. I had to be able to balance classes with my weekend outings. All of my classes released project and essay deadlines on the first day of class, so planning ahead was crucial.
What surprised you most about your time abroad/off-campus?
I was most surprised as to how I could be so far away from home, but not feel that distant at all. The staff is awesome and the friends you meet end up making in Sydney feel like home. You also get to know the city incredibly well, especially when you start your internship and you have to commute there every day.
What was the hardest part of your experience?
The hardest part of my experience was budgeting. It's easy to want to do everything, mostly because it feels like everyone else is doing so much, but staying level-headed about expenses is most important. My advice to everyone is to save up big-time before the semester begins!
What was the best part of your experience?
Being able to travel was the best part. I was able to go to different cities within Australia, but also Thailand and Indonesia. Seeing new cultures and meeting new people was wonderful. I have many pictures and videos that I know I will cherish forever.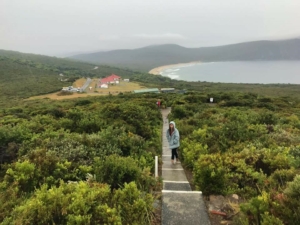 What are your best tips for those planning to study where you did?
Do all the coastal walks! They're beautiful and a great time. You typically start off the semester with a cohort Bondi to Coogee walk, but make sure to do one at the Royal National Park and the Spit to Manly coastal walk. The views are incredible; it really makes you feel like there's no place more beautiful than Australia.
Are there any hidden gems that your classmates should check out?
Get good food in Newtown! I'm Peruvian, so I looked for some Hispanic food and found great arepas at La Reina Queen of Venezuela Arepas in Newtown. Also, swim in the Olympic pool and then walk a few minutes to get to the Sydney Harbor Bridge – you'll get amazing skyline views. But probably one of the coolest experiences I had was in Tasmania. It's a 2-hour flight and worth your time if you like outdoorsy stuff — such a magical place.
https://questromworld.bu.edu/studyabroad/wp-content/uploads/sites/22/2018/08/KarlaAtRoyalNationalPark.jpg
960
960
admin
https://questromworld.bu.edu/studyabroad/wp-content/uploads/sites/22/2022/05/Questrom_icon-red-horizontal-1-300x109-1.png
admin
2018-08-17 14:47:40
2022-10-11 20:06:12
My Study Abroad Experience: Karla Carruitero