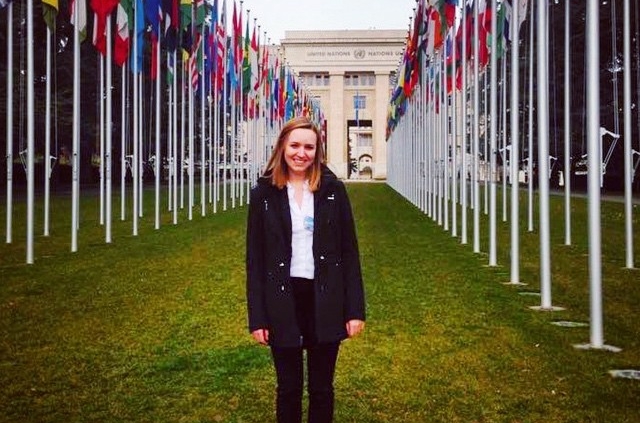 Melissa C., Geneva International Relations Internship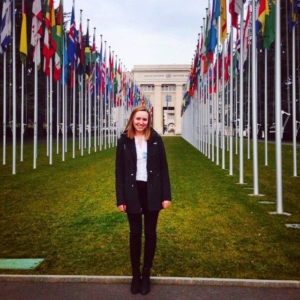 Interned in International Relations at the Women's World Summit Foundation, Spring 2015
This past spring, I studied in Geneva, Switzerland at the University of Geneva for the International Relations Internship Program.  After finishing up the six weeks of the semester attending classes, I worked as an intern for the Women's World Summit Foundation (WWSF), which is an international organization with United Nations consultative status dedicated to empowering women and children, particularly in rural areas.
During my internship at WWSF I helped to research and write for WWSF's newest campaign, the "17 Days of Activism for the Empowerment of Rural Women and Communities," which aims to empower rural women and their communities to rise and claim their rights by addressing their local and national governments, and the international society at large.  My day-to-day tasks at WWSF consisted mainly of researching and writing about rural women's rights, i.e. the right to water, land, adequate healthcare, etc.  After the writing portion of the campaign was finished, I also helped with the final editing and formatting of the campaign and am now published as a co-author of the campaign kit.  However, in addition to helping draft the campaign, I also got to attend the 28th Session of the Human Rights Council at the United Nations as a representative of WWSF, where I got to attend panels and discussions geared towards advancing international human rights.
The thing that surprised me most about my time abroad was how easy it was to travel to other countries and experience new things.  As Switzerland is located very centrally in Europe, all of the destinations that I travelled to via plane were within 1-2 hours away from Geneva, which was very convenient considering how short all of the trips I took were!  I thought it was really cool literally being able to eat breakfast in Kotor, have lunch in Zurich, and grab dinner in Geneva.
The hardest part of my experience, hands-down, was not knowing how to speak French.  Even though most people in Geneva speak at least a little bit of English, it was a very big shock to arrive in a country and have no idea how to speak the language.   I eventually learned the basics in French, like grocery shopping and ordering at cafes, but I would still definitely recommend to anyone going on the Geneva program to familiarize him or herself with the French language.
The best part of my experience was meeting new friends.  Most of my friends from school either went abroad in a different city or stayed in Boston for the spring semester, so when I left for Geneva I didn't know anyone on my program.  However, as the Geneva program is a relatively small program, a lot of people were in the same boat as I was, which I think made it much easier to make new friends.  Everybody on the program was so ready to explore and try new things in Geneva that I don't think anybody really had much trouble finding friends to travel with, and I think most of us left Geneva with long-lasting friendships as well!
My top tip for those planning to study in Geneva, aside from learning to speak French of course, is to research local attractions going on in Geneva during the time that you'll be there.  Geneva has a lot of exciting cultural events to offer, but they are easy to miss if you don't know what they are!  I would also highly recommend travelling mostly by foot.  Since Geneva is a pretty small city, it is really easy to get to different places by walking.  Even though it has a great transportation system, the best way to experience the city is to walk through it and take in all of the beautiful scenery.
I think that one of the best hidden gems in Geneva is a boulangerie located right around the corner from the residence called "Celine et Sebastien," which has great pastries, sandwiches, and coffee for inexpensive prices.  Since Geneva can get pretty pricey, this cafe is a great place to stop in for a quick bite or small coffee when you're not willing to pay $6 for a Starbucks!  The other hidden gem that I found and absolutely loved was the Golden Pass Line, which is a panoramic train that runs through the Alps.  If you're only going to take one train ride while you're in Switzerland, this is definitely the one to take!
https://questromworld.bu.edu/studyabroad/wp-content/uploads/sites/22/2015/07/Melissa-at-UN-in-Geneva-1.jpg
640
640
admin
https://questromworld.bu.edu/studyabroad/wp-content/uploads/sites/22/2022/05/Questrom_icon-red-horizontal-1-300x109-1.png
admin
2015-07-30 11:56:05
2022-10-11 20:07:16
Melissa C., Geneva International Relations Internship