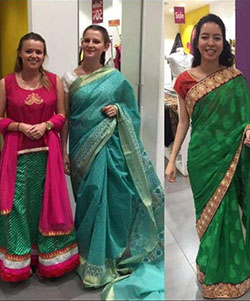 Saris, Scots and Stock Exchanges
Our GEO interns working at NISM, Mumbai tell us what they've been getting up to during their second week!
Friday
With the first week of our internship finally concluded, the team ventured to Inorbit mall to celebrate with Western food as a refreshing break from the buckets of (amazing) curry fed to us by NISM. We stumbled upon an American restaurant called Chillis, for an evening of meat and Western charts music. However, the highlight of the night for Nellie and Grace was discovering the gem that is the Happiness Station.
Saturday
After an early start the team got ready for a trip to R City mall in central Mumbai, organised by our supervisor at the institute, Nandini. After w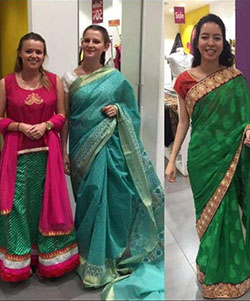 hat the locals consider a short trip across Mumbai, of around an hour or so, we arrived at the mall to be greeted by a giant hamster ball connected to a spinning price discount board which can only really be described as The Price is Right meets Gladiators or some other form of competitive Saturday night television. We were then taken to a restaurant serving up traditional Rajasthani cuisine, which looked rather overwhelming with all 3 courses served on one plate. Although it was delicious some of us weren't too convinced by one dessert which can be best described as having the consistency and taste of a wet sponge. We were then given free time to explore the mall, resulting in the girls embracing what India has to offer (though we feel some may suit it more than others).
On returning to the guesthouse we had the pleasant surprise of 3 other interns from Edinburgh University joining us. The new group bonded over drinks and football. However, for some of us (especially those of German origin) the extremely tense penalty shootout between Germany and Italy at Euro 2016 created quite the calamity…
Sunday
We had a lazy Sunday spent recovering from a busy first week with some of us exploring more of Mumbai.
Monday
We had a hectic morning filled with literature reviews being analysed by our supervisor Sandeep to assess their suitability, whilst also re-designing the groups and work delegations to incorporate the other interns. Following this we decided to introduce the Edinburgh students to our "local"…Tight Bar Round 2!
Tuesday
Sandip Ghose, Director of NISM, informed us in a board meeting that seemed rather professional that our research projects would be changing to focus primarily on financial literacy and education in India, different from the projects we had originally chosen. In addition, we were told that the next day was Eid, an Islamic festival, and that we would be given the following day off which took us by surprise (not that any complaints were made!).  Back at the guesthouse in the evening everyone played the hat game involving a lot of hilarious acting by Jack (Edinburgh Uni) of several different celebrities including an inventive acting out of Tigger.
Wednesday
Up bright and early we ventured into Mumbai to visit the Gateway of India, a famous historical monument built in the 20th century to welcome Prince Charles. It has since been used as an entry point for prominent visitors including British governors until India gained its independence. We then stopped to grab breakfast which was made amusing by Jack mistaking a fellow British tourist as a waiter and proceeding to give him his order. The rest of the day was spent wandering around Mumbai taking in the sights, sounds and smells (of which there are plenty).
We also visited various prominent buildings associated with India's economy including the Bombay Stock Exchange and RBI institute, which we will be revisiting soon with our supervisor for an in depth tour and chance to meet influential employees.
After a tiring day on o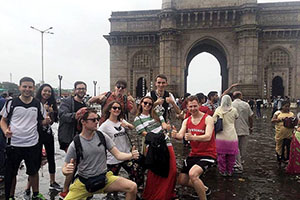 ur feet  we decided to collaborate the group's' financial knowledge to succeed on the Stock Market … or rather the Stock Exchange Bar where drink prices fluctuated in a similar manner to actual stocks.
Thursday
We returned to NISM refreshed from our mid-week break and began to immerse ourselves into our projects, including consulting the vast library within the NISM institute, which we have been gratefully given permission to use.
Friday
The day was dominated by birthday celebrations for Tim, one of the Groningen interns. Not only did we arrange to have birthday balloons and doughnuts brought to him at work, but our supervisor also presented Tim with a present on behalf of NISM. The excessive sugar from the doughnuts lead us to have a productive afternoon continuing our work on analysing the masses of data available to us. In the evening we visited Bandra (the "Shoreditch of Mumbai") to celebrate the birthday at a fantastic Japanese restaurant before sampling the nightlife and getting the chance to collaborate our cultures through some fantastically awful dancing.
GEO NISM Interns
https://questromworld.bu.edu/studyabroad/wp-content/uploads/sites/22/2016/07/nism1.jpg
301
250
admin
https://questromworld.bu.edu/studyabroad/wp-content/uploads/sites/22/2022/05/Questrom_icon-red-horizontal-1-300x109-1.png
admin
2016-07-14 17:34:35
2023-03-21 14:38:47
Saris, Scots and Stock Exchanges