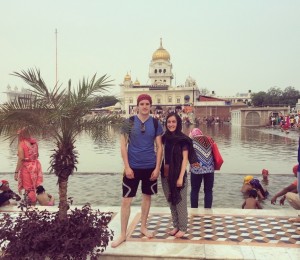 Week One with the Bharti Foundation
We arrived in New Delhi on the 25th, two days before our first day of work. Our first taste of India was the surprisingly spacious and orderly airport, an impression entirely contradictory to our preconception of a lively and at times chaotic country. It only took us a short drive to get to our guesthouse on the periphery of Gurgaon, one of the myriads satellite cities of Delhi. The drive was probably the first real taste our weary and jetlagged selves experienced of the free-for-all, seemingly ruleless chaos they call roads. With cows one of many avid road-users. An endless chorus of car horns used not as an aggressive technique but more as a spatial awareness indicator. The next morning, we hailed an auto-rickshaw being pedantically cautious of fitting everyone in, before witnessing countless families squeezed in and hanging off the sides of these tiny motorised carriages. An extremely futuristic metro – miles better than the tube and Boston's 'T' with far better security and even a women's-only carriage – took us to the capital, even though we (the English interns) found it particularly odd that conversing on the metro is allowed. Some commuters even played music out loud, which we all consider a massive faux pas on tubes – it is basically a crime!
We opted for a safe and less intimidating introduction of Connaught Place, the former headquarters of the British Raj. Perhaps sticking to what we know, just for the first day, was a good idea when in India! Within the first 30 minutes of setting foot in the city, we were confronted with our first experience of celebrity: Ella was asked to pose with a whole family of Indians! Unfortunately, we didn't get to keep the photo… but we were relieved none of us were blonde or God forbid ginger as the fascination would be at an entirely different level.
With the temperature edging 40 degrees and humidity at an unprecedented level, walking 9
miles was impressive with only a potato filled – yet delicious – pancake made of rice, a "masala dosa", to sustain us. We managed to fit in 3 major attractions; including, an open-air observatory (the Jantar Mantar) and despite our best efforts we gained minimal understanding whilst it sadly dawned on us that people built these astrological instruments over 250 years ago, yet we could not even figure them out with the aid of simple descriptions. We also visited an incredibly beautiful and huge Sikh temple (Gurudwara Bangla Sahib), known for its golden dome and pool of water with purported healing properties. We girls came prepared with scarfs to cover our heads, yet the boys were forced to borrow not-so masculine sparkly embellished headwear (see picture!). When naively inquiring into a painting of an enormous diamond, in fact the largest in the world, we were told the British took it and it now lives in one the queen's crowns. Our guide politely claimed that India had gifted it to the British, despite our unspoken collective understanding that they had of course stolen it…
Our first day as Bharti's interns was full of surprises: firstly our office building actually resembled a giant greenhouse palace (see pictures) even containing a decorative fountain in its centre. Our day being filled with continuous free coffees and a never-ending buffet-style canteen, we were welcomed by the whole Quality Support Programme team, who were all extremely helpful and hospitable. We then spent the first few days trying
to grasp the incredibly complex Indian education system, as well as the different tools employed in primary research, and we have been commissioned several presentations to show our understanding. So far, so good!
GEO Bharti Interns
https://questromworld.bu.edu/studyabroad/wp-content/uploads/sites/22/2016/07/bharti.jpg
260
300
admin
https://questromworld.bu.edu/studyabroad/wp-content/uploads/sites/22/2022/05/Questrom_icon-red-horizontal-1-300x109-1.png
admin
2016-07-14 18:37:05
2022-10-11 20:06:52
Week One with the Bharti Foundation