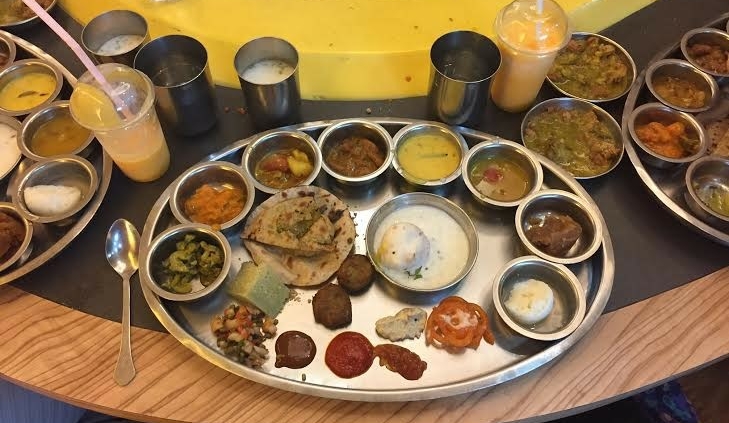 Week 3 at NISM: Beaches, Banks & Beginner's Swimming
Saturday
Tim's birthday celebrations ended early on Saturday morning and the monsoon hit hard during the daytime, so we spend most of it relaxing around the guesthouse and researching things to do in Vashi, as well as our travel plans for after the internship.
Sunday
We were up early to catch one of the notoriously packed and difficult to embark Bombay trains (thanks Nandini for the help)! We had an action-packed day which included visits to the Aquarium and Planetarium, a delightful feast at BBQ Nation and a tour of Isckon Temple which is dedicated to Ganesh. However, the highlight of the day was us cautiously paddling in the choppy and suspiciously cloudy Mumbai waves whilst a few of the boys bravely/ foolishly stripped off and jumped straight in. Nandini, our supervisor, then decided to show us all up, and in true Mumbai style, waded in fully clothed.
Monday
Back in the office, we spent the day researching for our projects. Having had little success running in the humidity, Nellie and Grace were keen to find another way to exercise. And so, after work, went on a mission to go swimming. After traipsing round 4 different pools and being rejected from each for various reasons (e.g. "what are you doing – this is for children only"), we decided to call it a day and returned home, dry and disappointed. Whilst some of us opted for the traditional cuisine for dinner (see picture), one of the Edinburgh interns took it upon himself to whip up a slightly ad-hoc and questionable spaghetti carbonara, much to everyone else's amusement.
Tuesday
Things got really interesting at work when we were given our first opportunity to use NISM's unique simulation trading lab. In the morning, we were briefed on the software, which is linked directly to the Bombay Stock Exchange in real time. We then spent the afternoon competing amongst ourselves to win our grand jackpot of 400 rupees (about £4.50). After work, following on from Monday's debacle, Grace and Nellie finally found somewhere to swim, even though it meant accidentally crashing a ladies-only beginner swimming class with a very strict dress-code. Luckily, the swimming teacher offered to lend us caps, and was kind enough to ensure that they were colour coordinated.
Wednesday
Another fascinating day spent in the trading simulation lab, learning more about the different types of trade order and ways of hedging our bets.
Thursday
We were up early and on a bus into Mumbai to attend India's first ever 'Quanteminar'; a conference about Quantitative Analysis, organised by NISM in partnership with Mumbai University. We were honoured to listen to several influential speakers (such as the CEO of the Bombay Stock Exchange) present on a range of technical yet fascinating topics. The experience was enhanced by the fact that it was held at the Sofitel Hotel, and we were treated to a continental breakfast buffet and lunch, during which we were able to network with the speakers and other attendees.
Friday
Today we visited the Bombay Stock Exchange, where we were given a lecture on the Indian Economy from a trading perspective and the chance to stage a debate in the original outcry trading floor. Then we moved onto the Reserve Bank of India (RBI) Central Office, where we were fascinated to learn more about their recent role in development, as well as traditional Central Bank functions. We had a fantastically fancy lunch at the RBI with their employees and a cameo appearance from our very own Sandeep, Director at NISM. The food was plentiful and delicious although we were all quite confused when it was followed by the traditional Indian breath-freshener 'Paan', which consists of areca nut wrapped in a large betel leaf, and is supposed to be chewed and then swallowed. In the afternoon, we were taken on a tour of Mumbai's Monetary Museum by the curator, who helped us to finally understand the Indian metric system, involving lakhs and crores, as well as giving us a slightly-less riveting explanation of the 1835 Indian Coinage Act.
All in all, it's been a hectic week, and although we are looking forward to relaxing at the weekend, we are excitedly anticipating more time spent in the trading lab at NISM and the opportunity to meet more local and interesting people.
https://questromworld.bu.edu/studyabroad/wp-content/uploads/sites/22/2016/07/Curry1.jpg
547
729
admin
https://questromworld.bu.edu/studyabroad/wp-content/uploads/sites/22/2022/05/Questrom_icon-red-horizontal-1-300x109-1.png
admin
2016-07-21 15:39:10
2022-10-11 20:06:39
Week 3 at NISM: Beaches, Banks & Beginner's Swimming