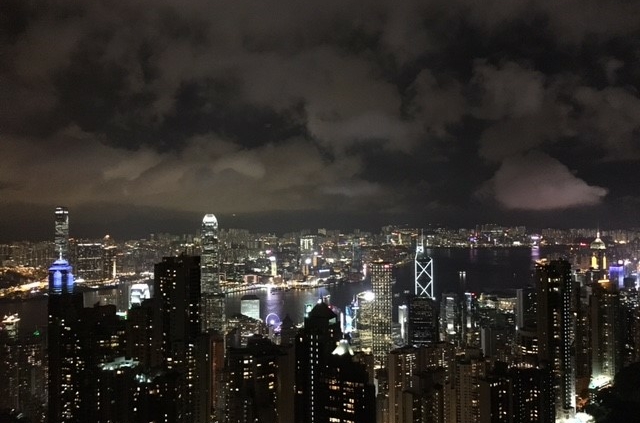 This week, we returned to Singapore after a brief but enjoyable trip to Hong Kong. In Hong Kong, we did not have the time to do much sightseeing but we did do a couple of things. One night, Millie decided to go to a local market on Temple Street. This was definitely an experience as all the people tried to sell her everything from fake handbags to phone cases. She had fun bartering with the vendors. Meanwhile, Laura met up with a friend from Boston University. They went to the Peak and explored the night view of this concrete jungle.
We returned on Singapore on Friday night after a week of work. Our plan for Saturday was to return to Sentosa to relax and soak up the sun. Laura and Doris did a bike ride around the isl
and while Millie and Livi lounged around on the beach. This was a great day, but Livi's nose suffered after six hours of sun!
Saturday evening, Livi and Millie headed to Little India, an area they hadn't explored yet. They had some delicious Indian food and observed the bustling streets a little different from work. Doris and Laura had a good rest after the long bike ride.
On Sunday, Millie went on a trip to try to learn more about the history of Singapore. She visited Fort Canning, which is where the WWII headquarters for the British army was based in 1940. They suffered heavy defeat until the Japanese surrendered.  In the afternoon, we experienced our first tropical storm. We were trapped inside listening to the loud rumbles of thunder and the bright flashes of lightning.
For our final week, we were back in the regional office and got to spend some time with the regional CFO, Alejandro.  Every day, we spent an hour or so having discussions with him. He shared with us his experience and insights into the world of finance. This was particularly useful as we approach the end of college and decide what to do after graduation.
This we
ek was particularly interesting as we approached the end of this internship. We learned a lot in a short amount of time as Alejandro freely allowed us to ask questions. Hence we could get a lot out of the sessions.
Also, this week we had another intern joining us from Boston University. Therefore, we decided to do some sightseeing together after work. On Monday night, went to explore the Gardens by the Bay. Just like Sentosa this is a man-made area, all on reclaimed land. It was beautiful. The gardens have several "trees" with flowers and plants surrounding them. We went to see a light show there in celebration of Singapore's 51st Birthday. The light show began just after the sun set and the trees lit up according to the music that was played. It felt very romantic! We also decided to explore some of the places where ex-pats, or as they say "Angmohs" go after work, we had a lovely dinner in an area where some of the old style buildings still exist.
Overall we have had a fantastic internship experience. We have certainly learnt a lot not only about accounting and finance at work but also about many different cultures. We feel very lucky to have had the opportunity not only to travel to Singapore but also to go to China and HK. We definitely agree that some of the lessons we have learnt here will be crucial to us throughout later life and we are glad we have been exposed to so much, even in this
short space of time.
We are looking forward to the opportunities we will have in the future and will always have fond memories of Singapore.
Over and out.
Laura and Millie, GEO Kwang Sia Interns
https://questromworld.bu.edu/studyabroad/wp-content/uploads/sites/22/2016/07/ViewfromPeak.jpg
480
640
admin
https://questromworld.bu.edu/studyabroad/wp-content/uploads/sites/22/2022/05/Questrom_icon-red-horizontal-1-300x109-1.png
admin
2016-07-28 09:29:58
2023-03-21 14:36:55
Singapore: Over and Out