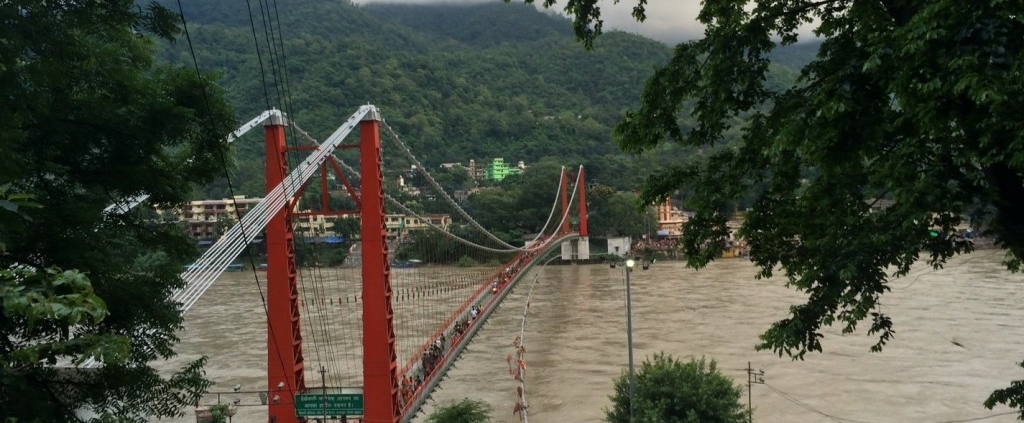 "Finding Ourselves" in the Himalayas – Week 5 with the Bharti Foundation
So this was our first weekend away, and despite changes in every single one of our plans, we miraculously made it on the bus to Rishikesh, a beautiful holy city located at the foothills of the Himalayas where we decided to go and "find ourselves" – apparently that's what you do when in India… With a bus that could more accurately be depicted as a roller coaster, we survived 12 hours of non-stop jumping in the air. Despite the bus, Rishikesh was undoubtedly worth it. To our surprise, we found it inhabited by more monkeys than people, while the whole town seemed busy walking around for 10 days.
As our journey coinci
ded with a traditional way of celebrating Shiva during the monsoon season. After a 15 km trek somewhere in the Himalayas on Sunday, we came back achier than ever before, ready to begin the busiest week of work yet. Interspersing our main research project, we were given the additional task of collecting primary data in two more government schools located in Haryana, where Bharti's Quality Support Programme is well under way.
So, this time our aim was to assess its positive impact and thus we designed new questionnaires for the teachers and students, which we had to administer in two groups due to the time constraints. In the meanwhile, our report on the Quality of Education is taking its form, with only a few days remaining until we have to present our findings to the Foundation.
As our experience comes to a close, we all feel this incredible opportunity has flown by, and we don't feel ready to leave just yet. On our first day, our supervisor told us that "Indians are always in a rush, but they never reach on time," which was arguably one of the most accurate descriptions of India ever uttered. Also, when asked what makes India unique according to us, we realised that we couldn't name solely one thing. Everything and everyone here has a special aspect that simply makes it impossible to compare to what we are used to, and this is perhaps the best thing about India. From the cows that stroll down the middle of the street, to the hospitality that verges on force-feeding, to the shameless and fascinated stares (that make us feel like celebrities), and to the abundantly but expertly spiced food, India couldn't have made us feel any more welcomed.
GEO Bharti Interns
https://questromworld.bu.edu/studyabroad/wp-content/uploads/sites/22/2016/08/bridge.jpg
768
1024
admin
https://questromworld.bu.edu/studyabroad/wp-content/uploads/sites/22/2022/05/Questrom_icon-red-horizontal-1-300x109-1.png
admin
2016-08-04 16:19:45
2022-10-11 20:06:39
"Finding Ourselves" in the Himalayas – Week 5 with the Bharti Foundation