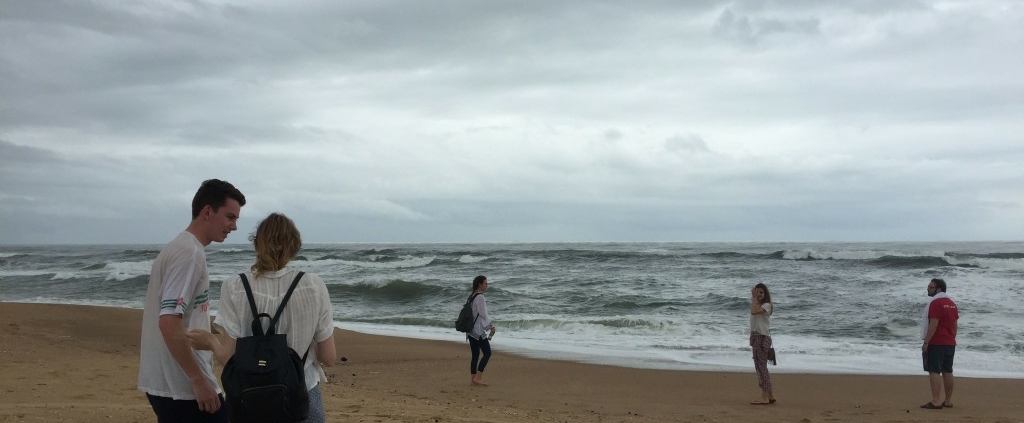 RBI Week 5: Retreats and Reflections
This weekend we took a break from the busy streets of Pune and enjoyed a pleasant trip to Goa. Our adventure began at 9 pm on Friday evening when we embarked on an 11 hour sleeper bus that took us from Pune to Panjim. We didn't have the best expectations for the journey, yet were delighted to find clean and spacious beds, comfortable pillows, and gracious bus drivers; the bus ride fe
lt like it only lasted 2 hours and before we knew it we had landed in Goa.
We were fortunate enough to be greeted by taxi drivers who knew exactly where we were going, although they tried to charge us for air-conditioning and a waiting fee for breakfast – after 5 weeks in India, we knew we didn't have to pay. Upon arriving at our hostel, similar to the bus-ride, we were pleasantly surprised by the accommodations; we had a whole room to ourselves, clean sheets and towels, as well as access to a bathroom, food, and drinks. We spent the majority of our first day there at a local beach restaurant called Prince of Tides. The owner was extremely gracious and the food was quite inexpensive. The owner, Shelton, let us DJ, gave us complimentary drinks and food, as well as good conversation! Our night in Goa was equally fun as we visited local nightspots and bars. The next day we went back to Prince of Tides and were trapped by tremendous monsoon rainfall. While our original plan was to visit the city, we didn't mind being confined to such a fine establishment.
After coming back from Goa, we realized that we should have planned other excursions, given that every part of India is a mystery of its own.
On Wednesday evening we returned for our usual dinner, but instead were greeted in the grassy courtyard by a live Indian band. There was an array of food stalls enclosed within the lit up trees surrounding the courtyard, freshly baking naan in a wood fired oven, accompanied by a variety of curries and a huge wok of assorted vegetables with spices. Feeling full after the meal, we expected to relax, however, we were forcefully invited to join in with the dance to a famous Indian tune. This was another time to experience the local Indian dancing, and once again we couldn't keep up!
Entering into our final week in Pune, we can't believe how quickly our time here has passed. We would recommend future interns to take our experience further by exploring other cities, indulging in street food (even if risky) and indulging in all India has to offer – something we are all very excited to do ourselves after we finish.
GEO RBI Interns
https://questromworld.bu.edu/studyabroad/wp-content/uploads/sites/22/2016/08/Ocean.jpg
768
1024
admin
https://questromworld.bu.edu/studyabroad/wp-content/uploads/sites/22/2022/05/Questrom_icon-red-horizontal-1-300x109-1.png
admin
2016-08-04 16:25:08
2022-10-11 20:06:39
RBI Week 5: Retreats and Reflections