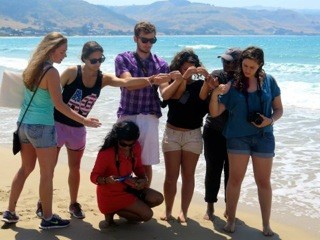 Interned in revenue management at Hilton, Sydney, Spring 2014
I studied in Sydney, Australia on the Hospitality Track as I am pursuing a dual degree with both SHA and SMG.
Internship: I was the Revenue Management Intern at the Hilton Sydney and concentrated in their Food and Beverage operations. One of the main projects I had was to develop a SWOT analysis for their five food and beverage outlets. I also worked closely with the Assistant Director of Revenue Management to help develop Excel templates that would help forecast F&B revenue and covers more accurately as well as identify need periods for potential marketing opportunities.
I Learned: I've always placed a high priority on academics, but studying abroad showed me how to balance both life and academics, having fun while working hard. I found that learning another culture is just as important as learning in the classroom. I've realized that my perspective on life has changed, and I now remind myself not to stress over the little things and am better at enjoying life in the moment.
Also, studying abroad opened my eyes to a new world of different perspectives. Living in the USA, we often get caught up in our own lives and view work, life, and many other things with a perspective similar to that of our peers'. We forget that there are billions of other people living their lives just a little bit differently than we do, people who have different priorities in their lives than what we're used to. Although it seems like common sense, the realization is hard to come by unless you experience a new culture first hand. The realization that there is so much more to life than just going to college or work is very important nowadays, particularly in a world as global as the one we live in today. There is so much to learn on this planet: its people and their cultures.
What Surprised Me: How much culture Australia has. It may not be as diverse as the States or be considered a melting pot, but the lifestyle is still very distinct. I was surprised at how difficult it can be to understand Aussies even though they are speaking English. They also have many slang words, and it can feel overwhelming trying to keep up at first.  For example, their language is different. They have slang words for everything from afternoon (arvo) to breakfast (brekkie) to McDonalds (Macca's).
Hardest Part: I think the hardest part to deal with was how expensive Sydney was. It's so easy to fly through your budget because you want to do everything and try new things, and everything starts to add up very quickly. It definitely helped keeping a budget and keeping track of all my expenses.
Best Part: Queenstown, New Zealand. I also went sky diving and bungee jumping (Nevis Bungy) here and it was one of the best things I've ever done in my life.
Another amazing part was the scenery of Sydney; there are lots of coastal walks and beaches to go to, so make sure you take advantage of them, especially in the during the summer months (towards the end during fall semester and the first few months during spring semester).
My Tips: 
Keep a budget! It will help you space out your spending appropriately.
Shop at Coles for money-saving grocery trips.
Take out is a few dollars cheaper than actually eating at the restaurant.
Take advantage of the weather in the first few months and with your long weekends. It gets much harder to do things in April, especially with the weather and working full time and taking a class.
Use backpacker's world or other backpacker travel agencies for your trips! They give pretty decent deals, especially when going with a group of friends.
https://questromworld.bu.edu/studyabroad/wp-content/uploads/sites/22/2014/07/Sydney-at-night.jpeg
213
320
admin
https://questromworld.bu.edu/studyabroad/wp-content/uploads/sites/22/2022/05/Questrom_icon-red-horizontal-1-300x109-1.png
admin
2014-07-29 10:22:09
2023-03-21 14:51:28
Roshni Patel, Sydney Internship—Hospitality Track