Elevator Fund Internship – Fifth Week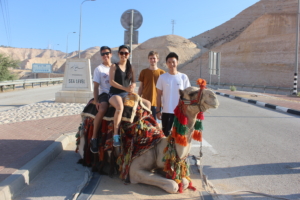 This was a week with lots of anticipated suspense in continuing my exploration around Israel, looking to gain anything I could from this opportunity. The week began cheerfully with celebrating a friend's birthday (Happy Birthday Justin!); on his request we went to visit the famous Dr. Shakshuka, to try his very own, as you may imagine, Shakshuka. I am still mesmerised on how a simple dish filled with eggs and tomatoes can be so luscious; highly recommended. Starting the week in a buoyant manner freshened up my outlook to work this week, and I looked forward to an amusing weekend.
The report on the progress of Elevator's recent campaign, isupportisrael.org, is that we have raised over $110,000. Thank you to everyone who has been helping out; everything has genuinely been beneficial to help citizens in the south of Israel. This week I got to work on researching towards a potential collaboration with Adidas. The research reports consisted of understanding their investment and innovation strategies and activities, plus helping find a common ground on how they could connect to Elevator's business model. The second half of the week, I was working on a team of four to handle a list of contacts for partners of the organisation to seek out and network with. Thus, we were held responsible in providing research that pinpointed which partner to initiate the first contact and the potential benefits for Elevator from these interactions. In general, it was a not too stressful, but sufficiently productive week.
On the first day of our well-deserved weekend, we decided to take a tour to the Dead Sea region. It's still hard to comprehend that I was physically standing at the lowest point on Earth. The tour consisted of travelling to Masada, Ein Gedi, and eventually the Dead Sea. In regards to this particular trip, I had mixed feelings from hearing other people's opinions. Some enjoyed it, some didn't, thus there were no expectations from me. The tour began with an unexpected encounter with camels, when I had the chance to sit on top of one. I was speechless at how still camels are, and struggled to discern if it was alive or a statue from just staring at it from within the bus. Anyway, we arrived in Masada around 9 am, when the temperature had already risen to 35 degrees. Out of pride, I chose with a few other friends to hike up a one and half hour stair path. (aka Snake path; you can see from the picture how high and far we hiked) I can't say this was one of the wisest things I have done, but it was a great way to experience how descendants from two thousand years ago actually lived through their routine life. Reaching to the top felt very rewarding, as if we won a war, battling our way through blood and sweat! After Masada, we were treated with Ein Gedi, a tropical oasis that captivated my visual senses with beautiful waterfalls and breathtaking scenery. After all that walking, we finally reached the Dead Sea, in my opinion the highlight of the trip. From the bus ride to getting off the bus, we immediately smelled this salty stench (smells a little like rotten eggs), all in a 40 degree (C) climate. My only tip for newcomers is to prepare to have the sun slapping your face throughout the day. The appearance of the Dead Sea might not look so different from any other body of water, but you will realize the difference when you get closer to the mud. You actually can see salt on the sand and mud, water dissolved from the inevitably hot sun. The second I stepped in the water, I felt like it was pretty normal, but once you take your feet off the ground, you are straight up floating. That is as simple as I can put it. It was just fascinating to know I was rising to the top without the help of anything. You feel like you are literally flying but on water! It was without doubt one of the coolest things I have ever done in my life, and this is an experience anyone should try whenever the opportunity arises.
The second half of my weekend, I visited Haifa; unfortunately I missed two times now visiting the Bahai Gardens. (I had trouble waking up early again.) Nevertheless, it gives me more reasons why I should come back to Israel at some point in the future. The weekend rounded off with another day trip to Jerusalem, as we were interested primarily to explore Yad Vashem, the Holocaust Museum. For anyone interested in grasping and witnessing footage on the series of events that mapped out World Wars I and II, this is the ideal place. Admission is free, and with the audio guide (which costs merely 3 pounds), it conveyed a powerful story that I feel will stay in my mind for a long time to come.
This has been a week when I have finally been able to tick off some activities from my checklist of things I have always wanted to do. Hearing miraculous tales in Jerusalem, riding on a camel, and swimming at the Dead Sea created memories that will always be remembered. I am now about to enter the last week of this adventure with my head held high and hoping to embrace every minute here with no regrets.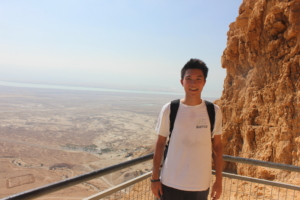 https://questromworld.bu.edu/studyabroad/wp-content/uploads/sites/22/2014/09/Camel-1-scaled.jpg
1707
2560
admin
https://questromworld.bu.edu/studyabroad/wp-content/uploads/sites/22/2022/05/Questrom_icon-red-horizontal-1-300x109-1.png
admin
2014-09-24 10:16:44
2022-10-11 20:07:40
Elevator Fund Internship – Fifth Week