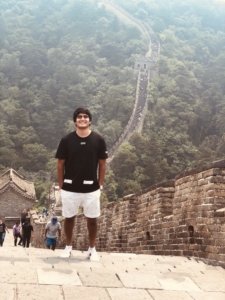 I was able to study abroad during the summer of my freshman year in Shanghai, China. The program consisted of a full-time internship based on your field of study along with a four-credit internship seminar. After the internship recruitment process through CRC Asia, I was placed as a Private Equity Analyst at Paragon Partners Asia, a boutique private equity firm. My role entailed analyzing prospective investment opportunities and collecting investment decks in order to pursue prospective investments. I was able to gain client exposure and developed key investor relations among prospective investors in order to find and allocate funds towards distressed asset projects.
Shanghai has been one of the most efficient and productive countries that I have ever visited. The advanced usage of technology has driven the city ahead of the majority in the world today. The efficient use of QR codes for each and every transaction allows the city to limit cash transactions. Transportation has never been faster with bullet trains arriving every three minutes and moving at 350 KMPH. Shanghai drives to be a booming city with mega infrastructure, rapid innovation and a growing economy.
However, the hardest part was the fact that I did not speak any mandarin, but today's technology was a true asset. I was able to use Google translate and Bido translate at each step of the way along with a mix of sign language to complete my sentences. Despite the language barrier, I was able to find my way through the system and it was a truly rewarding experience. If you are thinking about traveling out of Shanghai I would recommend going to Beijing for a traditional trip of the Great Wall of China and the forbidden city or visiting the panda reserves for all you animal lovers or the Avatar mountains in Zhangjiajie National Forest Park for a wide range of breath-taking views.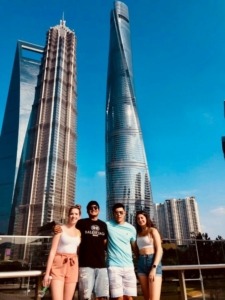 In terms of key takeaways during my overall experience in Shanghai, I was able to learn how to adapt and fit into new global environments with zero knowledge of the local language. The ability to be independent and find your own way through a foreign country is an extremely rewarding experience and it changed my perception of trying new experiences and taking risk in my day to day life. Also, I was able to understand the importance of traveling and learning how different global cultures and working environments differ from one to the other. If you are studying abroad my best tip would be to have an open mind, don't try compare the differences with your home country. Each experience is different to the other and once you are able to understand the benefits of the city you study abroad in that will be the turning point of making your study abroad experience one of the best experience of your college career.
https://questromworld.bu.edu/studyabroad/wp-content/uploads/sites/22/2020/02/shanghai.jpg
673
897
admin
https://questromworld.bu.edu/studyabroad/wp-content/uploads/sites/22/2022/05/Questrom_icon-red-horizontal-1-300x109-1.png
admin
2020-02-18 20:36:24
2022-10-11 20:06:12
My Study Abroad Experience: Upek Kuruppu