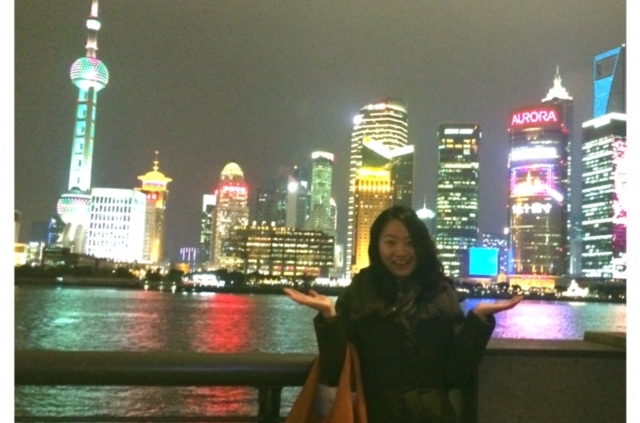 Miriam Kim, Shanghai Internship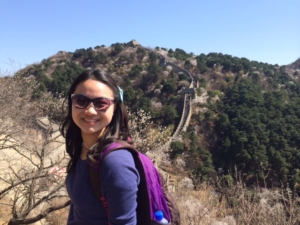 Interned in Finance at Gaotime, an international financial information service company, Spring 2014
Internship: Stunned by all the bright lights and skyscrapers in downtown Pu-dong, not only was I looking forward to bargaining and shopping at the "fake market" or tasting my first authentic Shanghai-nese soup dumpling, but I was also hoping to pursue an internship related to my field of interest during my time in Shanghai. I was expecting to intern at a small, start-up firm, but much to my surprise, I was given a valuable opportunity to intern at Gaotime, an international financial information service company located in the Shanghai World Financial Center, the tallest skyscraper in Shanghai's financial district. My main projects ranged from writing industry reports for the company's database with my team and creating PowerPoint slides for my boss (to be used abroad), to researching successful business models for potential future investment in one of China's main industrial sectors.
I Learned: Working at Gaotime was the highlight of my Shanghai experience. I was truly able to immerse myself in the workplace culture of China, strengthen my interpersonal skills and come to understand multiple aspects of Chinese culture, including its language, business environment, economy, primary financial sectors, and potential for future growth. I became highly adaptable to any new situation as I gradually learned how to be more patient, open-minded, and emotionally balanced. But most valuably, I now understand China and its people much better than ever before. The cultural insight and knowledge I have gained from my work and travel experiences here definitely widened my horizons and made me realize that this world increasingly needs more people who understand Chinese culture and can thrive in a fast-developing, highly diverse country like China. Not to mention, choosing to study abroad in a challenging but rewarding environment like China and coming out of the experience successfully is a huge boon in the eyes of prospective employers!
What Surprised Me: As a Korean-American who grew up and lived in the States for most of her life, I admit that I was daunted by the fact that I would be living in a developing country for the first time. I expected that my new lifestyle in China could be different from what I was used to in the States and that I would have to develop an appreciation for a new set of living standards. Throughout my travels, what surprised me most was how modern and developed Shanghai actually is compared to some of its immediate neighbors. Although the average standard of living in Shanghai is not as high as that of the U.S., this experience still helped me gain an appreciation for them as well as for the exceptional circumstances that I grew up in. I saw and learned that parts of the developing world are really suffering from remnants of poverty and government corruption and need assistance from the developed world with which I am familiar.
Hardest Part: What I found most tough was dealing with the lack of order in traffic and on the streets as well as the high population density, especially in downtown areas. This was just one of the many unique aspects of China, the country with the largest population in the world, where vehicles take precedence over pedestrians at all times, and no laws prohibit bikes and motorcycles from mixing in with bigger vehicles on the streets, creating a rather chaotic environment for one not used to hectic city life. I found it a bit challenging to commute to work at times, but as long as I was careful and looked both ways twice before crossing, I managed. Also, since I like listening to music while walking, I always checked to make sure my volume was at a low enough level for me to hear whether or not anything was approaching me from behind.
Best Part: On the bright side, I was in for a treat from the moment I arrived in Shanghai. The BU Shanghai staff is very supportive, experienced, and fantastic with organizing program excursions. I rarely missed out on opportunities to learn about China's long history by admiring well-preserved museum works, tasting different types of Chinese cuisine, and recognizing the special characteristics that define each province. Fudan University's SSDPP (School of Social Development and Public Policy) was extremely hospitable towards us, providing us with various opportunities to go on weekend trips to nearby water-towns and villages. In terms of academics, I was fascinated and challenged by the courses I took at Fudan, which were taught by some of the best and most famous professors in China. I also loved how small and intimate my Chinese class was compared to the bigger average class sizes back at BU. The smaller classes definitely allowed me to interact more with the instructor (who was awesome!) and encouraged all of us to participate more. In terms of social life, Shanghai's nightlife and local dishes are very affordable and easily accessible for the most part. But most importantly, I'm glad I had the chance to experience tremendous potential for growth from facing the challenges of a developing country firsthand.
My Tips: Keep an open mind and attitude, be bold with your Chinese inside and outside class (try to stretch your limits in using the language), and travel during weekends even if you're busy! China has extraordinarily beautiful landscapes and so much to see and experience, so take advantage of the close proximity to major UNESCO World Heritage sites while you can! China boasts the Great Wall, Forbidden City, Summer Palace, rural villages, gardens, lakes, mountains, canal towns, and countless other natural sites. China also offers excellent transportation systems like high-speed rail, subway, and trains that travel to nearby towns such as Hangzhou, Suzhou, and Nanjing. If you are considering traveling to Hong Kong, Taiwan, or Macau, make sure you apply for the right visa—the earlier the better. Install BU VPN before leaving to ensure smooth communication with friends and family back at home, but don't indulge in it too much while you're abroad. Keeping in touch is important, but this is your time to explore new grounds and grow as an individual, so don't invest too much time in activities that you can normally do in the States. Instead, take photos or start a blog; save the usual Skype or Facebook for when you're feeling really homesick.
https://questromworld.bu.edu/studyabroad/wp-content/uploads/sites/22/2014/07/Pudong.jpg
640
640
admin
https://questromworld.bu.edu/studyabroad/wp-content/uploads/sites/22/2022/05/Questrom_icon-red-horizontal-1-300x109-1.png
admin
2014-07-25 13:01:34
2022-10-11 20:08:27
Miriam Kim, Shanghai Internship