Gabrielle Arons, Sydney Internship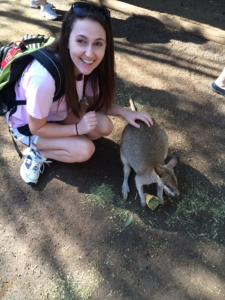 Interned in Marketing at fashion retailer The Iconic, Spring 2014
Internship: I interned at The Iconic, an online retail company similar to Asos. The Iconic opened about three years ago and was the first company to bring online shopping to Australia. I primarily worked with the search engine marketing team to support their advertising efforts through campaign management and performance metrics to increase brand exposure. More specifically, I used Google AdWords and Google Analytics to optimize search results and advertising placement.
I Learned: I learned that I could survive without the physical support of my close friends and family in a place completely different than anything I knew. I had never even moved myself into my BU dorm room by myself, and now I was moving myself to another continent. I also learned to be more adventurous! I went scuba diving, bungee jumping, and surfing, among many other adrenaline-filled activities, none of which I would have done had I not gone to Australia.
What Surprised Me: While Australians do speak English, it is a very different English than I expected. A simple task like ordering coffee became a whole new skillset. Considering I chose to study abroad in an English-speaking country, I was surprised to learn that communicating with Australians would be harder than I expected. I was also surprised to see how expensive everything is in Australia. The cost of living is significantly more expensive, and minimum wage is much higher than in the states. So while many Australians make more money than Americans, they also must spend more to live.
Hardest Part: The hardest part of my abroad experience was my internship. I was not completely thrilled with my placement; my boss didn't have much work for me to do, and some days we didn't communicate. I had to learn how to adapt to a different work environment and reach out to other employees to make the most of my abroad internship. In the end, I learned a lot about what I wanted in a workplace and about the Australian work culture, all of which is highly valuable work skills to move forward in my career path.
Best Part: The best part of my abroad experience was the fact that I got to live in a country so far away, something that I will never do again. Australia is not an easy place to get to from the states, and the truth is that, for a long time, I will not have the chance to go back. Many Americans never make it to that side of the world. I considered doing a study abroad program in Europe, but decided that I've seen many European countries on vacations because it is easy to travel to. An Australian vacation takes much more planning and time because it is hard to travel to. It truly is a once in a lifetime experience.
My Tips: 
Be prepared to spend a lot of money. It's expensive to live there!
Either bring your own sheets/pillows, or buy them there.
Bring toiletries, and then throw them all out when you come back to the states. It will open a lot of room in your suitcase for souvenirs!
Unlock your iPhone and bring it! You will appreciate having data.
This might seem obvious, but only bring the amount of luggage you can carry by yourself. You'll have to navigate huge international airports on your own, so make it as easy as possible for yourself to carry luggage.
https://questromworld.bu.edu/studyabroad/wp-content/uploads/sites/22/2014/07/Gabrielle-Australia-Kangaroo-scaled.jpg
2560
1920
admin
https://questromworld.bu.edu/studyabroad/wp-content/uploads/sites/22/2022/05/Questrom_icon-red-horizontal-1-300x109-1.png
admin
2014-07-24 10:29:06
2022-10-11 20:08:27
Gabrielle Arons, Sydney Internship