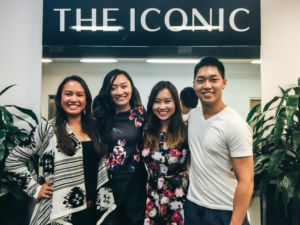 Interned in marketing at THE ICONIC in Sydney in summer 2015.
Internship: I interned in the Buying Department of THE ICONIC, Australia's leading online fashion retailer. My responsibilities included managing order information between internal inventory systems and Excel, analyzing sales data, and writing sales reports. I also sat in on my manager's showings, where representatives from different brands would introduce next season's line. For someone pursuing a career in fashion, this experience opened my eyes to the processes that take place behind the scenes of a retail company. On slower days, I would head to the Productions Department and help out with photo shoots. I loved my workplace because everyone was welcoming, and I was given the opportunity to observe other departments.
I Learned: I learned about the prevailing influence that the United States has abroad. American media is everywhere from magazines to movie screens. Every song you hear a bar or club is played in the States as well, so you will have no problem singing along. Australians have an impressive grasp of our pop culture and politics since everything that happens in America has a ripple effect on other countries. Ironically, working at a foreign company gave me a better understanding of the American workplace and why we are such a dominant economic power. While the Australian workplace has an easygoing "work to live" mentality, the American workplace has a much stricter "live to work" lifestyle that is more efficient but at the expense of employee happiness. Both systems have their strengths and weaknesses.
Studying abroad also challenged me to be a functioning adult in a short amount of time. Between class, work, exploring the city, and travelling across the country, I had to find time for basic tasks like laundry, grocery shopping, and cooking (if you want to try it, kangaroo steak is best prepared medium rare). While balancing all of this may seem overwhelming, it becomes second nature before you know it.
What Surprised Me: Australia has a vastly different culture from America, but after a few weeks of living there it almost felt like home. Experiences may vary, but I found it surprisingly easy to adjust to the Australian lifestyle.
Hardest Part: The hardest part was going home after two months. Packing all the cool things you've accumulated after two months. The lack of authentic American food (namely pizza and brand name cereal).
Best Part: The best parts were the people you meet and the places you go. Watching Australians' eyes light up when you tell them you're American never gets old.
My Tips: Save money and leave the apartment as much as possible. Every neighborhood in Sydney has a different atmosphere that's worth discovering at least once. Also, don't be afraid to explore by yourself! Australians will be impressed by the independence. As long as you practice good judgment, it's an exhilarating learning experience to wander around a new country on your own—it's the best way to break out of the American bubble.
Hidden Gems:
Sydney – Manly Beach and the Bondi to Coogee walk for quintessential Australian beaches; Mrs Macquarie's Chair for the most stunning view of the Sydney Harbor; Mary's for a good burger Newtown; Paramount Coffee Project for Instagram-worthy brunch; Emperor's Garden for famous Chinatown cream puffs; World Bar for boozy teapots; Standard Bowl for drinks, dancing, and bowling; Pancakes on the Rocks for 24-hour breakfast food; Paddy's Market for cheap groceries; the Glebe and Rocks Markets for all of your outdoor shopping needs.
Melbourne –
The graffiti in hidden alleyways (check out Hosier Lane); Brighton Beach bathing boxes; St. Kilda pier for wild penguins!
https://questromworld.bu.edu/studyabroad/wp-content/uploads/sites/22/2015/12/Hosier_Lane.jpg
1366
2048
admin
https://questromworld.bu.edu/studyabroad/wp-content/uploads/sites/22/2022/05/Questrom_icon-red-horizontal-1-300x109-1.png
admin
2015-12-22 12:32:10
2022-10-11 20:06:52
Jessica Chen – Sydney Summer Internship