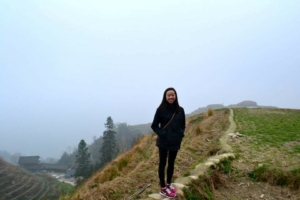 Hello! My name is Jillian Lau and I studied abroad in Shanghai, China spring 2015, the second semester of my junior year.
Internship: I did the Shanghai Internship Program while abroad and interned at a local social media marketing agency called Mailman Group. The agency is owned by an Australian man, and the office is made up of half locals and half foreigners. The office is quite small as there were about 50 employees. Because I was working at a small agency, I had a lot of responsibilities. Some tasks included writing original articles for the company's two blogs, managing its Twitter accounts, and creating weekly internal newsletters for one of the company's teams.
I learned: Shanghai is what you make of it. I thought that just being in China I would get that authentic China experience. That was not the case. It's really easy to get by speaking all English or only frequenting Westernized restaurants and malls. The China experience doesn't just come to you just because you're living there, but it's something you work for if you want it. If you want that authentic China experience, I would encourage you to try to speak Chinese as much as you can, interact with locals, and visit cities and villages off the beaten path.
I was surprised by: How close I became with my Chinese teacher. Everyone who studies abroad in Shanghai is required to take a Chinese language course. The class is every day for 1.5 hours four days out of the week. The classes tend to be small as Shanghai is one of the smaller programs and everyone is usually at a different Chinese level. Even though my Chinese teacher was my teacher, we became friends really quickly. We would go to the gym together, go out to eat, and even explore the city together. Meeting my Chinese teacher was one of the highlights of my study abroad experience, and I'm sure many of the other students who have studied abroad in Shanghai would agree.
The hardest part: Commuting to the office. Shanghai is a huge city. When you're abroad in Shanghai, you study at Fudan University (the third best university in China or the best university in Shanghai). Most students have their internships in the city center; however, Fudan is about a 45 minute to an hour subway ride into the city center. Not only is the commute long, during rush hour the subways are packed full of people. Also, just to get to and from the subway from the dorms, you have to walk 20 minutes, bike it, or take a bus or cab. The commute alone could leave you exhausted for the day.
The best part: The food and the traveling. Food in China is very cheap and very good. At night, there are street vendors that come out and park outside the dorms. Some of my favorite things to eat while I was there were ròu jīa mó (肉夹馍), a bun stuffed with braised pork belly, má là tàng (麻辣烫), your choice of meat, vegetables, and noodles cooked to order in a spicy broth, and xiǎo lóng bāo (小笼包), steamed soup dumplings. You just have to be careful of what you eat because food is not always the cleanest. Also, China is a great place to travel. There are so many interesting cities within China that are easily accessible by bullet train or plane, or you could also visit neighboring Asian countries.
My tips: Be prepared – not only mentally but physically. It's always good to mentally prepare yourself any time you're going to a foreign country with a different culture just so you're not overwhelmed when you get there. However, there are also precautions that you should take before leaving. These include medicine, toiletries, banking, and clothes. In China, it's hard to find certain Western comforts that we're used to so it's better to be prepared and bring your preferred medicine (such as cold and flu, pain relievers, stomach, etc.) and toiletries (I'm talking to the ladies when I say this). Also, there are many banks and ATMs in Shanghai, but before you leave it's best to check out what kinds of international services or charges your bank has. I was able to find a Chinese bank that partnered with my local bank, so I didn't have to pay ATM fees while I was abroad. I also signed up for an international credit card which was great for buying train and plane tickets. Lastly, pack wisely. Shanghai can be pretty cold in the winter then get hot and humid really fast.
Hidden Gems: Definitely check out the South Bund Fabric Market if you want to get some clothes made. Bargain hard!
https://questromworld.bu.edu/studyabroad/wp-content/uploads/sites/22/2015/08/Jillian-3.jpg
720
960
admin
https://questromworld.bu.edu/studyabroad/wp-content/uploads/sites/22/2022/05/Questrom_icon-red-horizontal-1-300x109-1.png
admin
2015-08-17 13:48:03
2022-10-11 20:07:16
Jillian Lau, Shanghai Internship