Amanda Barone – London Internship – Management Track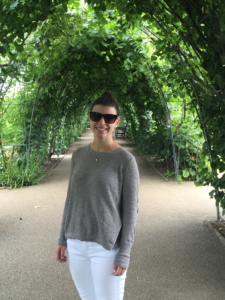 Interned in finance on the London Internship Program in summer 2015.
Internship: I was an Analysis Intern for a company called CMD, which tracks the performance of thousands of fixed income securities and uses this information to provide money market analysis to industry insiders.
Because the company is quite small, I was given a lot of responsibility right away; by the end of my first week, I already had four articles published to an audience of about 20,000 market professionals! I primarily wrote articles about Movers & Shakers in the financial industry and weekly bond market reports for SSA, FIG, and corporate bond markets.
As someone who is studying both Business and English, this internship enabled me to learn how to analyze the bond market and gain professional writing experience. Through this internship, I was also able to gain a truly international work experience; there were only eight people in my office, but each person was from a different country!
I Learned: Between take-out, my Mom's homemade meals, and BU's dining halls, I don't have much cooking experience. It was a bit of a reality check to have to prepare all of my own food, but I feel that being thrown right into it really helped me to learn how to plan dishes, grocery shop, and make delicious meals on my own.
When my English class read the works on the topic of World War One, we supplemented the reading with a field trip to the Imperial War Museum. It was so insightful to see history through the eyes of another culture, and I realized that I actually had a passion for learning about the World Wars.
What Surprised Me: What surprised me most about going abroad was how quickly you make friends with the people on your trip! Going into the experience, I did not know anyone who would be in London at the same time as me. Luckily, I met an amazing group of people. We became very close very quickly because we were all learning how to adapt to a different culture at the same time. I am very grateful to be going back to Boston with a new circle of friends that I may have never otherwise crossed paths with!
Hardest Part: I knew going into the experience that London was one of the most expensive cities in the world, but I was still surprised to see just how expensive everything was! The exchange rate was quite shocking. Although it seemed normal to buy a coffee for 3.50, I had to remind myself that I was using the British pound rather than the American dollar, which meant that my coffee was actually costing me closer to $6.00. I realized almost right away that I would need to stick to a budget if I did not want to burn right through all of my savings. Although it was really difficult to resist the temptation of all the amazing London shopping and eating, I know I spent my money on things I really cared about which made me and my wallet much happier!
My Tips: BU's London campus is so close of the South Kensington museums (the view out my window was of the Natural History Museum), which are some of the best museums in the world. But by the end of the trip, some of my friends still hadn't been to many of them even though they were literally across the street! Most British museums are free, so my best tip is to pop in whenever you have a free hour. Going to the Victoria & Albert museum for 45 minutes a few mornings before class really broke the museum down and made the entire experience more enjoyable!
Hidden Gems: Anyone who knows me knows that I have a serious coffee addiction. Because the Brits are so obsessed with their tea, I had to do some serious exploring for a great cup of coffee. I researched the best coffee places in each area and worked my way around the city. Some hidden gems included Monmouth Coffee, Brooklyn Coffee, Notes, and Workshop Coffee Co. It was so nice not only to have an excuse to see most of the city, but also to escape from the hectic city and relax with a cup of coffee.
Best Part: The last night of my trip coincided with one of my roommate's birthday, so my entire friend group decided to have a huge celebration meal at Ottolenghi. The food was some of the best I've had in my life, but even more incredible was sitting around with a bunch of people who had been strangers just weeks ago and talking about all of the amazing adventures we had in London.
https://questromworld.bu.edu/studyabroad/wp-content/uploads/sites/22/2015/09/Amanda-in-Kensington-Gardens-scaled.jpg
2560
1920
admin
https://questromworld.bu.edu/studyabroad/wp-content/uploads/sites/22/2022/05/Questrom_icon-red-horizontal-1-300x109-1.png
admin
2015-09-03 17:45:51
2022-10-11 20:06:52
Amanda Barone – London Internship – Management Track