Self-Employed Women's Association 2014 – First Week with Jamie Kim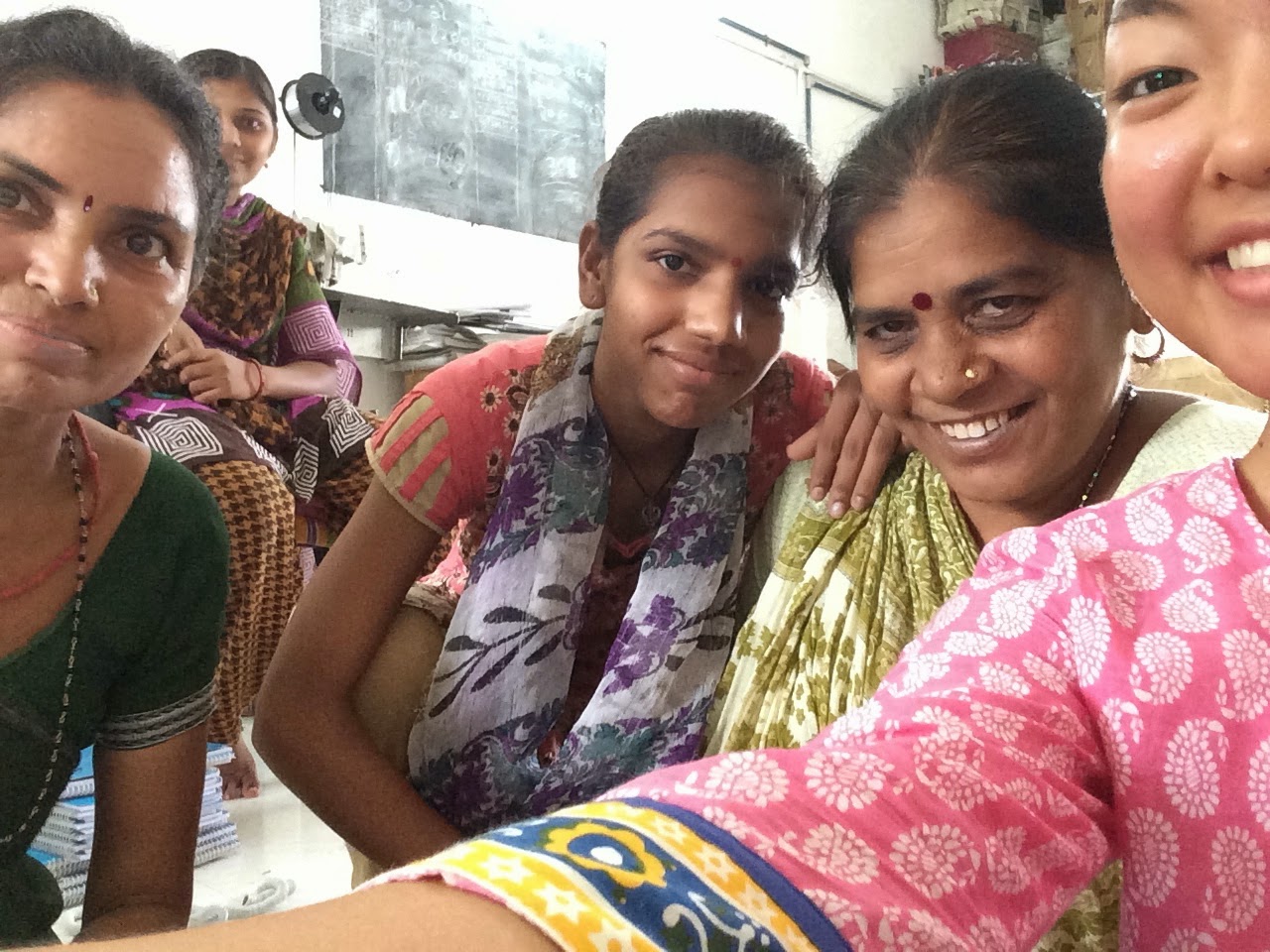 The first few days here were quite chaotic. I now feel that I have settled in and am able to write about the work I am doing here in Ahmedabad at SEWA, the Self-Employed Women's Association. I would have liked to describe the logistics of this trip, such as my accommodations and hostel-mates, but I am trying to avoid making this entry longer than it has to be.
During the first week, SEWA gave the interns an orientation and introduction to some of the different sectors and their respective offices. SEWA was established in 1972 and has more than 1.3 million women members who seek stability and self-reliance through employment. This sort of employment ensures that these women receive security and benefits, both of which were not received in the members' prior work. SEWA also extends to the SAARC countries of Afghanistan, Bangladesh, Bhutan, Maldives, Nepal, Pakistan, and Sri Lanka. After visiting the offices and learning more about SEWA's progress, I was enthused to be working with such a forward-thinking non-governmental organization.
Today was my third full day of work at Gitanjali, SEWA's branch for stationery creation. Gitanjali was formed in 1995, and its objective is to supply an alternative livelihood of various paper products through recycled paper waste incorporation while providing a more sustainable career for women workers. Many of the employees of Gitanjali are also working as "waste-pickers." As waste-pickers, these women are exposed daily to poor sanitation and the danger of cuts leading to diseases. Women more oftentimes fear suffocation from heaps of waste burying those working at the bottom. Gitanjali has helped organize waste-pickers and provide opportunities for women to develop skills in creating handmade stationery products out of recycled materials. With continuous orders from companies like Staples, Accenture, and Goldman Sachs, Gitanjali has developed immensely. During these first few days, I have been observing the production line and the 30 employees at Gitanjali. My assignments are to produce case studies of the women, create marketing materials, examine the finances, and identify operational deficiencies. I am dumbfounded by each story I am told and more and more amazed at the work SEWA is doing.
In regards to living in India, it has been quite nice. Along with the other interns, I am living in EDI's (Entrepreneurship Development Institute of India) International hostel. I am blessed with air conditioning, single room, private bathroom, cleaning service, laundry service, and WiFi. I came with the idea that I would lose weight but have put on a few pounds instead, due to the lavish plates of authentic Indian food provided on campus. I did not expect such comfortable accommodations and am extremely grateful. The students attending the institute have also been very welcoming and helpful. If only the heat would be more kind…
-Jamie Kim
https://questromworld.bu.edu/studyabroad/wp-content/uploads/sites/22/2014/07/Jamie-Kim-and-SEWA-coworkers.jpg
960
1280
admin
https://questromworld.bu.edu/studyabroad/wp-content/uploads/sites/22/2022/05/Questrom_icon-red-horizontal-1-300x109-1.png
admin
2014-07-14 10:09:53
2022-10-11 20:09:02
Self-Employed Women's Association 2014 – First Week with Jamie Kim