Rick Smith, Professor, Deputy Dean, Programmes, SMU Lee Kong Chian School of Business (LKCSB)
Recipe for Innovation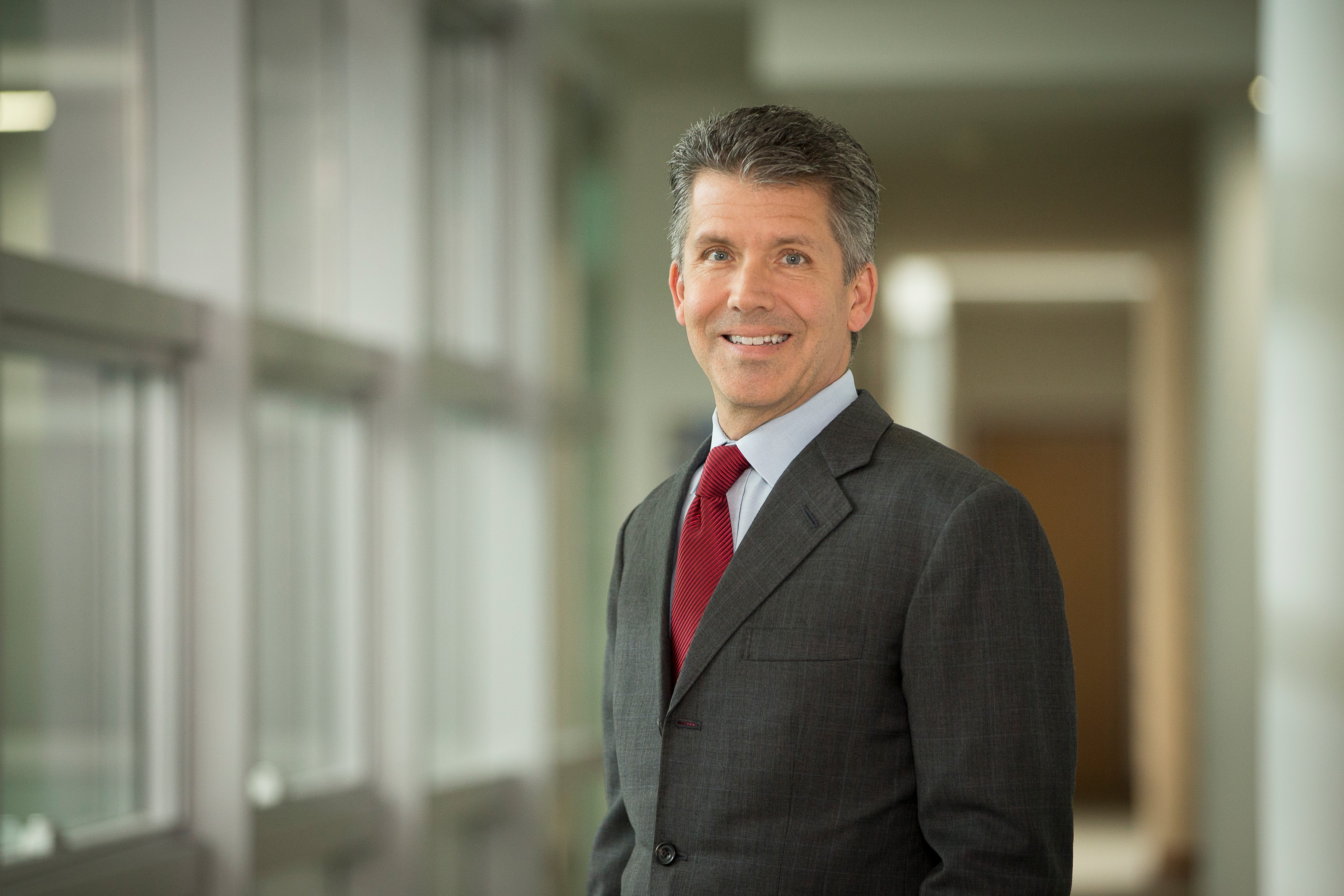 We are all part of a fast-paced society wherein moving forward is a daily fixation, and self-reflection a luxury we would rather avoid. Why take time to reflect when there is so much pressure to be outwardly productive and ever busy? Why delve within when we can get lost in the grind of keeping ahead of the competition?
However, Professor Rick Smith, Deputy Dean, Programmes, of the SMU Lee Kong Chian School of Business (LKCSB), has made it his business to reflect upon the future of business education. Having recently launched his book, Rethinking the Business Model Business of Business Schools, Prof Smith is intrigued with how business education needs to innovate to remain relevant. Come 28 August 2018, he will be spearheading a global dialogue on advancing business education at the Business Education Jam: Singapore 2018, hosted by LKCSB.
"The concept of 'jamming' comes from jazz musicians who get together, improvise and explore different tunes," says Prof Smith. This is a very different process than an orchestra performing a refined piece of classical music.
"The idea of the Business Education Jam is similar to the jazz musician intent: to bring together those with vested interests in a forum for us to share ideas and concepts and challenge one another so that we are more thoughtful about what we're doing not only in LKCSB, but for business education in general around the world."
Many argue that with changes in technology, globalisation, and employer expectations, the traditional model of business school education is primed to be disrupted. Just as the current landscape of business and higher education is fast evolving and unpredictable, the jam is also formatted to be open-ended and engaging to address the transformative changes that will affect business schools.
"The Jam event is more exploratory in nature which perhaps makes our conference organisers more nervous," laughs Prof Smith.
"At a traditional conference, organising speakers come up with specific messages that are going to delivered. But with the concept of the jam, we throw things out, we innovate, and see what happens. Rather than a clear recipe, we have ingredients we put in and see what we get out of it."
Raising questions
The goal of the upcoming Jam is to spark a conversation among students, both current students or prospective ones, alumni, faculty from business schools in the region, and employers about the current state of business education — and changes that need to take place amid an increasingly digitalised and globalised world.
"The university concept goes back hundreds of years and we have kept the tradition alive in societies around the world for many good reasons. For business schools, we are a part of the academic tradition, yet also serve a changing and dynamic business world today." explains Prof Smith.
"And so, it is an interesting inflexion point in time as a society and as academics. When might we ask the tough questions and say – wait a minute, even though this has been going on for many of years, should we do things differently now? It' s a little unsettling and yet very exciting."
For starters, schools used to serve local communities. But now, there are universities situated around the world. Globalisation has led to the rise of alliances which have seen schools working together. The many of top ranked programmes, for example, are global university alliances, allowing students to interact with world-class professors and thinkers for a truly globalised education.
Furthermore, technology has provided an increasingly broad range of online learning options, and with bandwidths being accessible to students in many countries, educational institutions may need to evolve their means of delivering information to a wider audience. But with the rise of connectivity comes the question concerning the willingness of students (or parents) to pay for education. If students are inclined to pick up information through sources like video-sharing website YouTube, what would make them want to pay the tuition fees for a university education?
"Business schools need to think about their fundamental value proposition," says Prof Smith.
"There is a pressure on the current assumption that students graduate from schools ready to take on anything that comes their way in the workforce, and perhaps come back for an MBA after a few years. In reality, education is lifelong as we need to equip ourselves with continuous learning. At our Jam, we will raise these questions and see what needs to be addressed and innovated."
Need for change
For schools to remain relevant, Prof Smith believes that the business model of business education needs to be reconsidered. While top schools like the SMU Lee Kong Chian School of Business pride themselves on research, he emphasizes that we need to work harder to make sure that business research has relevance to make an impact in the corporate sector. After all, the professor has spent most of his working life in the corporate world, most recently as managing director of management consulting at Accenture, before joining SMU in 2012.
Prof Smith also brings up the importance of producing grads with the right skills to meet the needs of dynamic, digitally-driven businesses. While schools in the past did not have the impetus to change the way they conducted their programmes, students today also have more options for higher education from around the world. Hence, business schools need to think about their competitive differentiation and how they are unique compared to educational institutions. This is important for both students as well as employers.
With many questions facing the future of business schools in the near future, Prof Smith expects the Jam to be a lively discussion that will ignite questions about business education.
"I am really hoping to get some active debate, maybe nothing too violent, but some active disagreements around concepts and ideas which we need more of to be honest," says Prof Smith.
"I am not suggesting we will come up with a list of new answers, but we hope to bring together different stakeholders, put aside the formalities of who's a student, who's an alumnus, who's a faculty, that and join together in one conversation… and ask the right questions."
How will the traditional model of business education be disrupted in Asia? Hear from our panel comprising of Gerry George – Dean of the SMU Lee Kong Chian School of Business, Georgina O'Brien – Head of LinkedIn Learning Asia, Kris Sasitharan – Global HR Business Partner, Standard Chartered Bank and Jason Lawrence – Director of Market Development in North Asia from GMAC in the Business Education Jam: Singapore 2018.
 Join us on Facebook Live this 28 August 2018, 4pm SGT.
https://questromworld.bu.edu/businesseducationjam/wp-content/uploads/sites/10/2018/08/rs-scaled.jpg
1707
2560
admin
https://questromworld.bu.edu/businesseducationjam/wp-content/uploads/sites/10/2014/06/IBMJam-wordmarklogo.png
admin
2018-08-25 03:46:17
2022-10-24 15:29:33
Rick Smith, Professor, Deputy Dean, Programmes, SMU Lee Kong Chian School of Business (LKCSB)